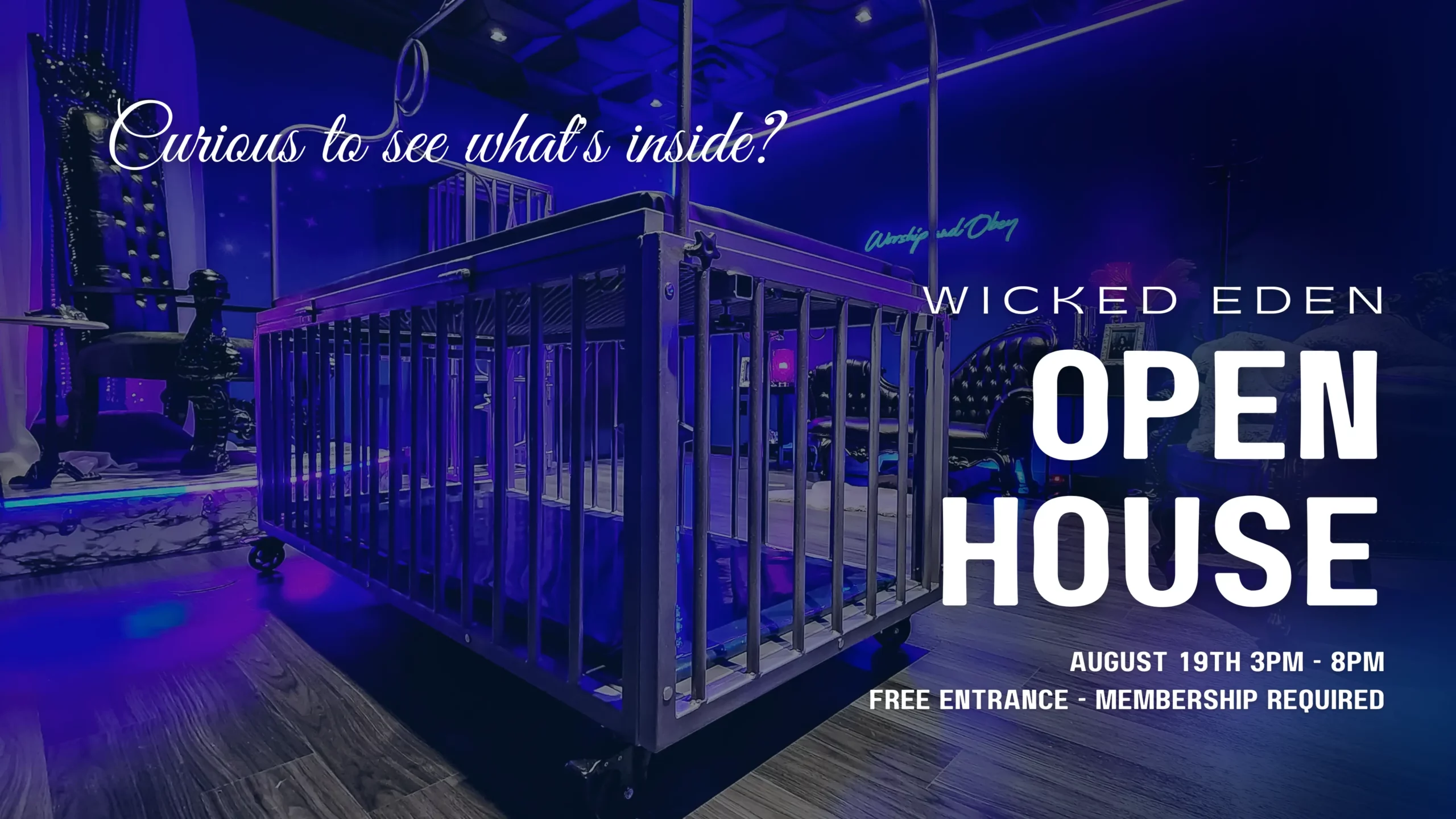 August 19th · 3pm - 8pm ∙ Columbus, OH
Discover a world of intrigue and curiosity at the highly anticipated Wicked Eden Open House. On August 19th, from 3-8pm, join us for an exciting event that will introduce you to the unique experiences offered at Wicked Eden. Whether you're new to this community or have been considering delving into alternative lifestyles, this Open House is the perfect opportunity to explore, learn, and connect.
During the event, immerse yourself in the welcoming atmosphere of Wicked Eden. Our knowledgeable team will be there to answer your questions, address any concerns, and guide you through the venue. Feel at ease as you witness captivating equipment demonstrations at 4pm and 6pm, where experienced practitioners will showcase different aspects of our dynamic space.
As a token of our appreciation, we are pleased to offer a complimentary ticket to the Open House when you become a member of Wicked Eden. This is your chance to experience the benefits and unique opportunities that come with being a part of our community. Connect with like-minded individuals, discover curated events, learn a thing or two, and embark on a path of self-discovery and exploration in a supportive and inclusive environment.
Join us on August 19th from 3-8pm for an unforgettable experience that will broaden your horizons and ignite your curiosity. Whether you're a seasoned enthusiast or simply curious about alternative lifestyles, the Wicked Eden Open House is the perfect stepping stone into a world of connection, education, and self-discovery. Take the first step towards a journey of exploration and join our vibrant community at Wicked Eden.
MEMBERSHIP IS MORE THAN ACCESS..
Membership to the Autonomy Project is more than just access to a remarkable space—it is an opportunity to be part of a dynamic and inclusive community. By becoming a member, you join a collective of individuals who are dedicated to fostering respect, empowerment, and personal autonomy. Together, we are building a place where everyone can feel accepted, celebrated, and supported all across the LGBTQIA+, BDSM, and alternative lifestyle spectrum.
As a member, you play a crucial role in shaping the future of our community. Your participation helps us create a space that embraces diversity, dismantles societal stigmas, and advocates for the rights of marginalized communities. By contributing your ideas, experiences, and perspectives, you become an integral part of the Autonomy Project's mission.
Being a member means having access to a wide range of educational opportunities, engaging events, and meaningful connections. From workshops and classes to social gatherings and special events, you'll have the chance to expand your knowledge, explore your desires, and form deep connections with others who share your interests.
Together, we are building a place where everyone can be their authentic selves, free from judgment and discrimination. Join us as we create a vibrant and supportive community, where individuals from all walks of life can come together to learn, grow, and celebrate their unique identities. Your membership is an investment in yourself, as well as in the collective vision of a more inclusive and empowered world.
Still not sure?
We're so confident that you'll LOVE it here that we're offering 50% off a temporary membership until 8/31/23!

Use code: WICKEDWELCOME when signing up!