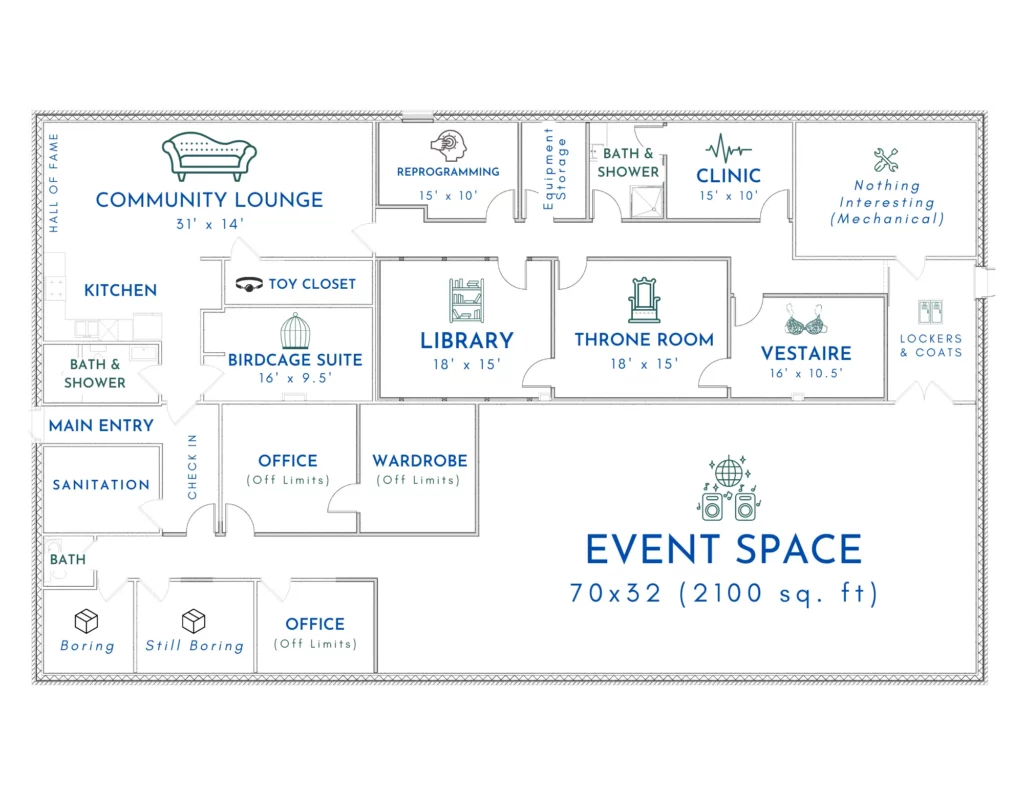 Step into the enchanting embrace of the Library Botanica, a captivating haven where bondage and botanical beauty converge. Immerse yourself in its lush and warm ambiance, where every detail has been carefully crafted to ignite your senses and inspire exploration.
This room is a sanctuary of desire, boasting overhead bondage suspension beams that offer endless possibilities for thrilling and secure bondage experiences. Discover the exquisite St. Andrew's Cross, an iconic centerpiece that beckons you to surrender to the pleasures of restraint. Alongside, you'll find a wooden spanking horse, inviting you to indulge in the delights of impact play, both with custom matching upholstery. 
Multiple sturdy hard points are strategically placed throughout the room, ensuring safe and secure opportunities for suspension bondage, allowing you to elevate your experiences to new heights. Embrace the freedom of movement and explore the artistry of restraint in this captivating space.
The Library Botanica isn't just a playground of bondage, but also a haven of comfort and relaxation. It features ample seating, complemented by custom library shelving and carefully curated botanical decor. As you sink into the plush cushions and run your fingers along the spines of literary treasures, you'll feel a sense of warmth and invitation, inviting you to unwind and immerse yourself in the atmosphere of intimate connection.
To view more photos, please view this site on desktop/tablet.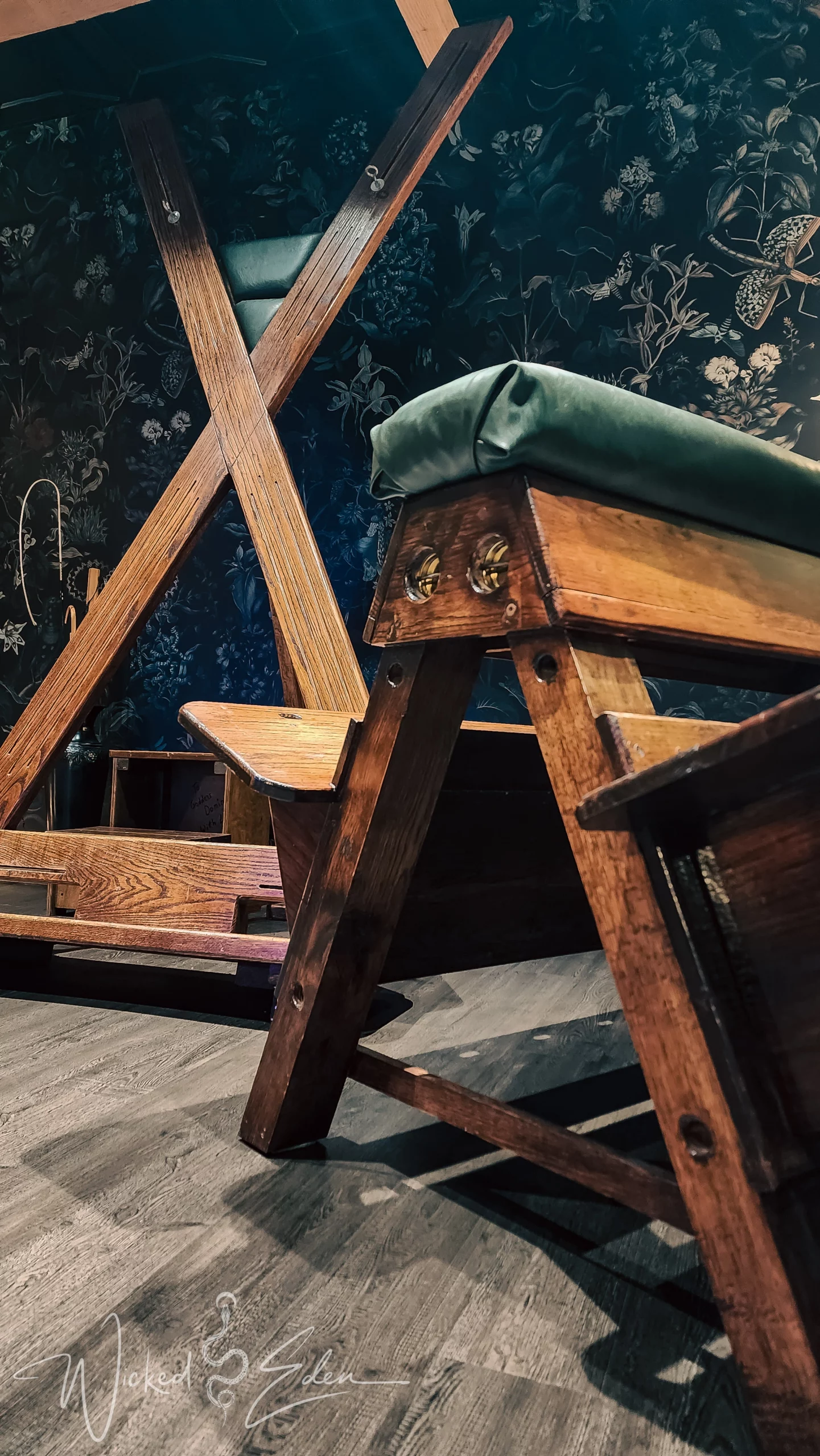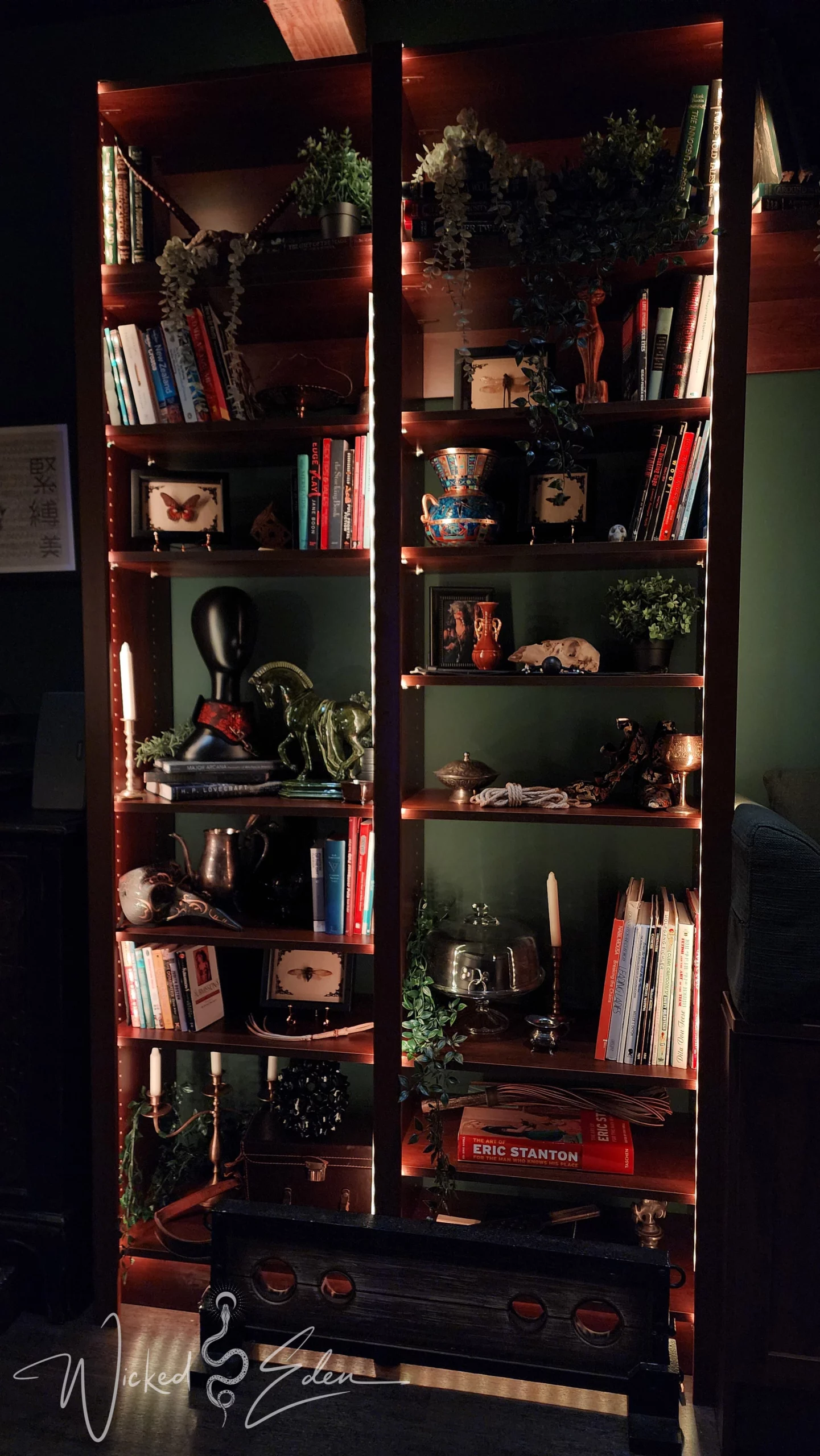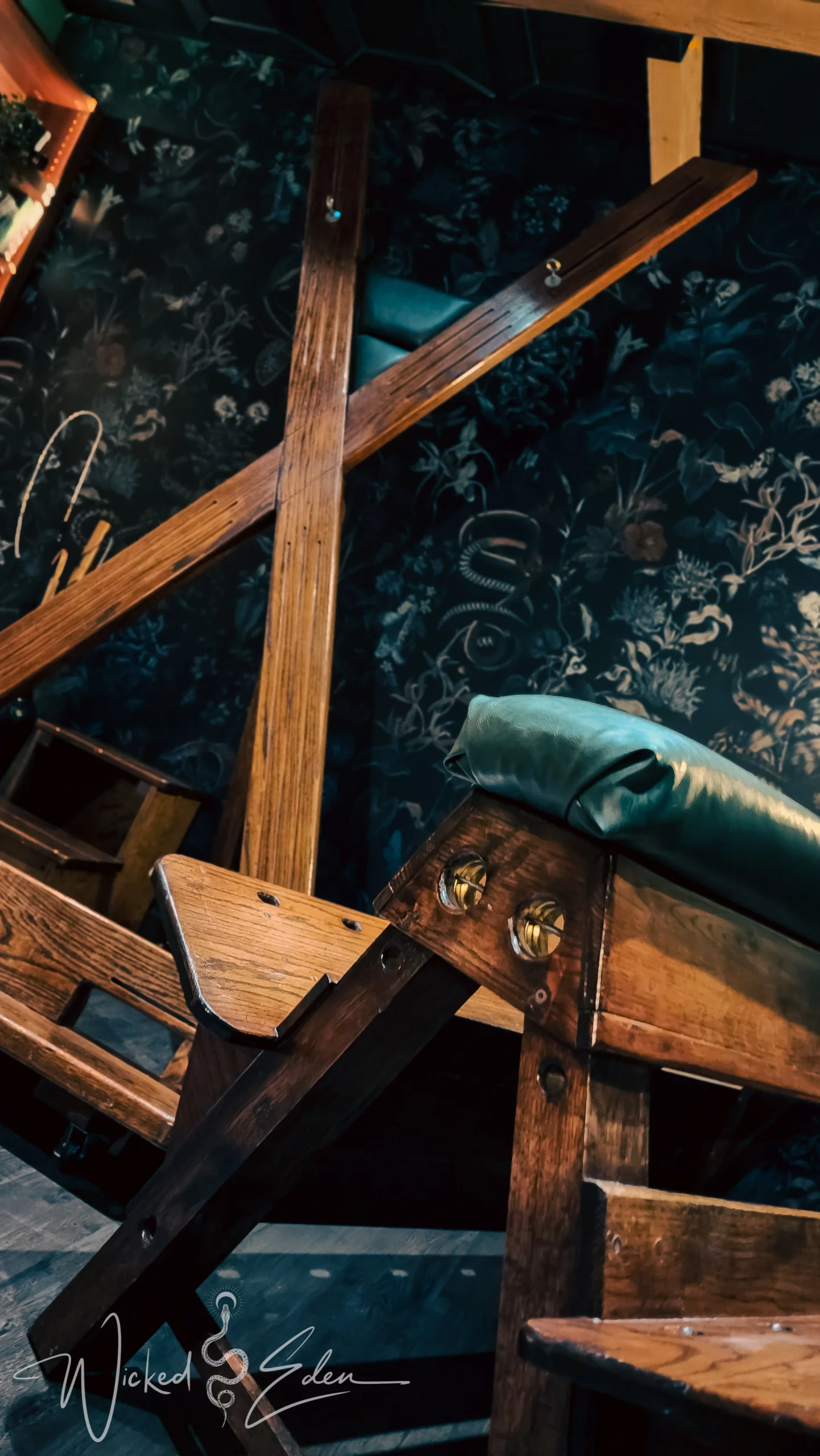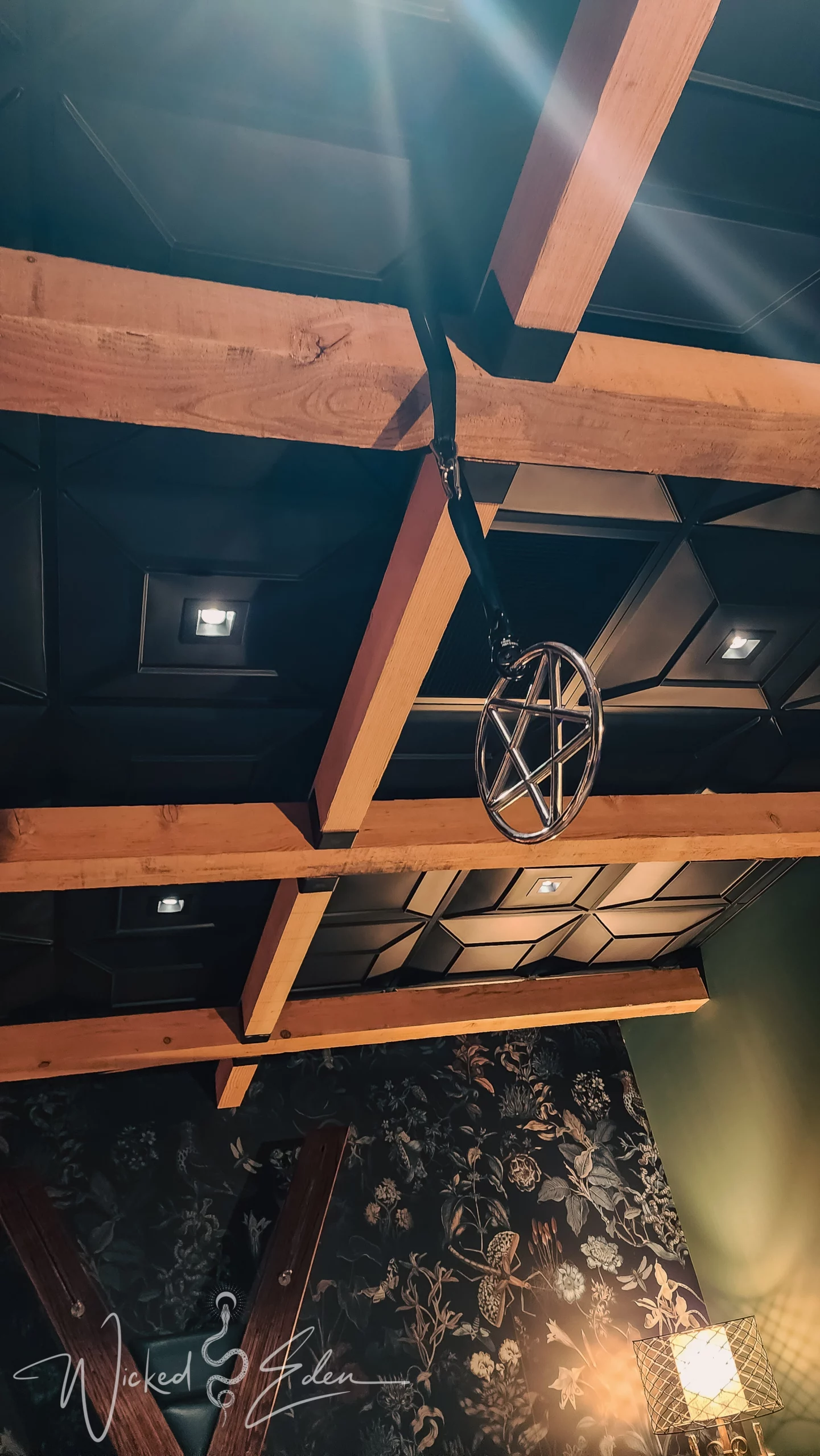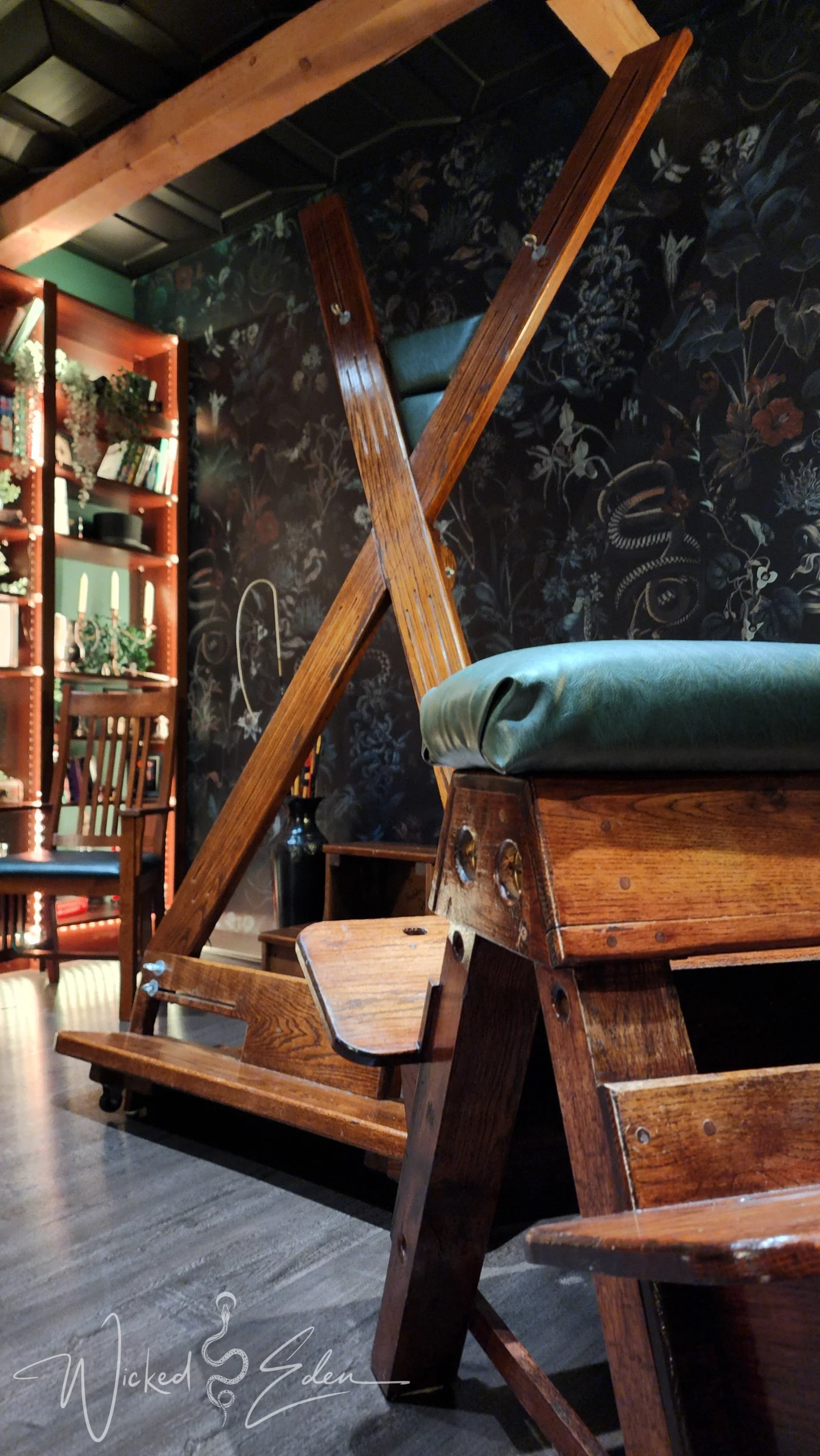 Step into the divine realm of pleasure and power at the Celestial Throne Room, an opulent space designed to captivate your senses and fulfill your deepest desires. As you enter, you'll be mesmerized by the grandeur of the massive throne, an exquisite masterpiece fit for a deity.
In this exclusive sanctuary, you'll find an array of custom black and silver bondage equipment that will elevate your experiences to celestial heights. The centerpiece is a meticulously crafted bondage table with an accompanying cage, allowing for endless possibilities of restraint and confinement. Heartwoods Furnioture has meticulously designed every detail to ensure both comfort and security.
Surrounding the throne and bondage equipment, you'll discover a collection of black vinyl Victorian furniture, luxurious rugs, and plush floor cushions, providing the perfect setting for indulgence and relaxation. Our furniture is thoughtfully designed to be ergonomic, accommodating various body shapes and sizes, and we have taken special care to make the space accessible for those with mobility issues.
Prepare to be enthroned in pleasure and embrace the divine essence of your desires. The Celestial Throne Room invites you to surrender to a realm where fantasies become reality and where you can explore the depths of your imagination.
To view more photos, please view this site on desktop/tablet.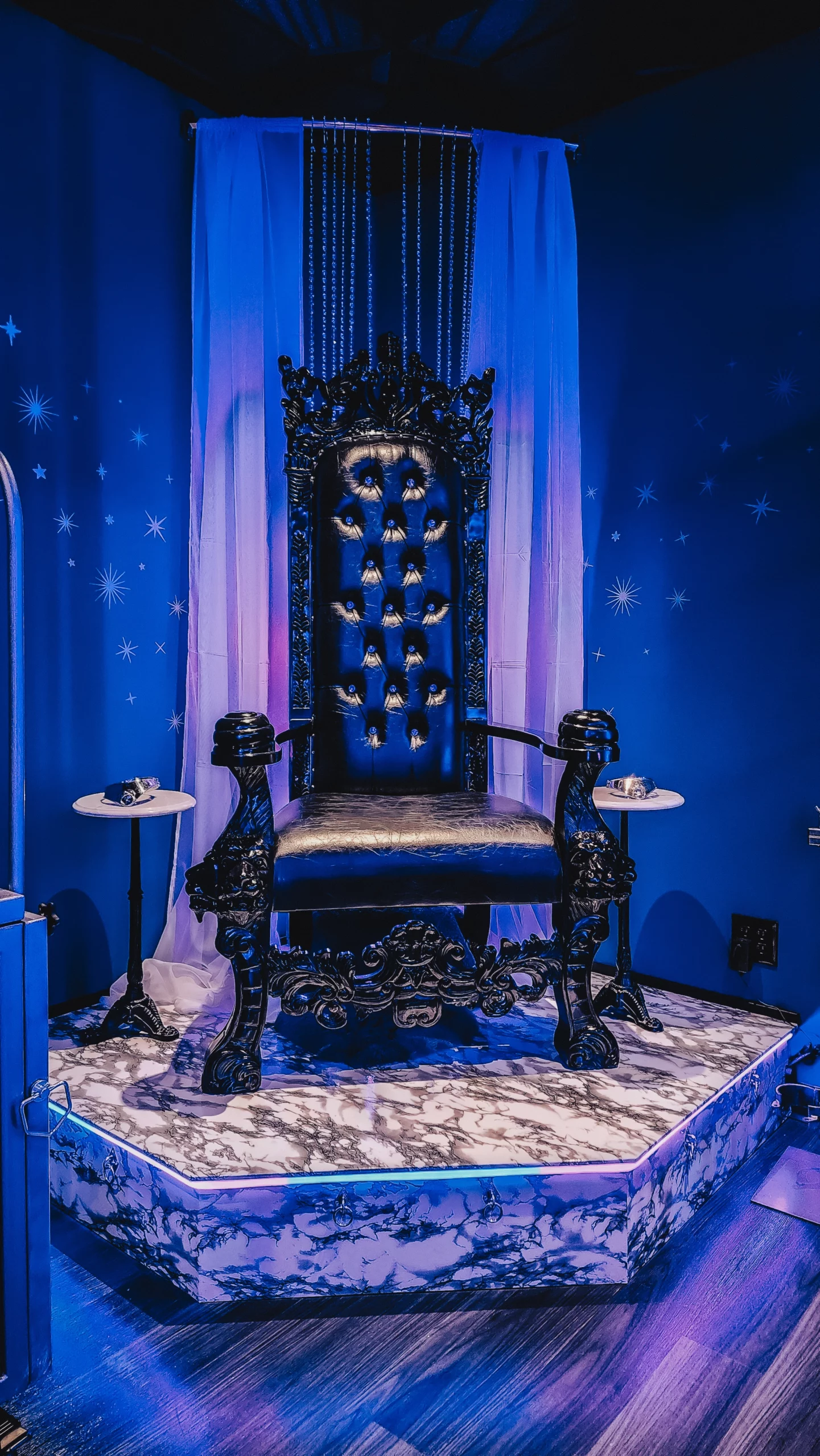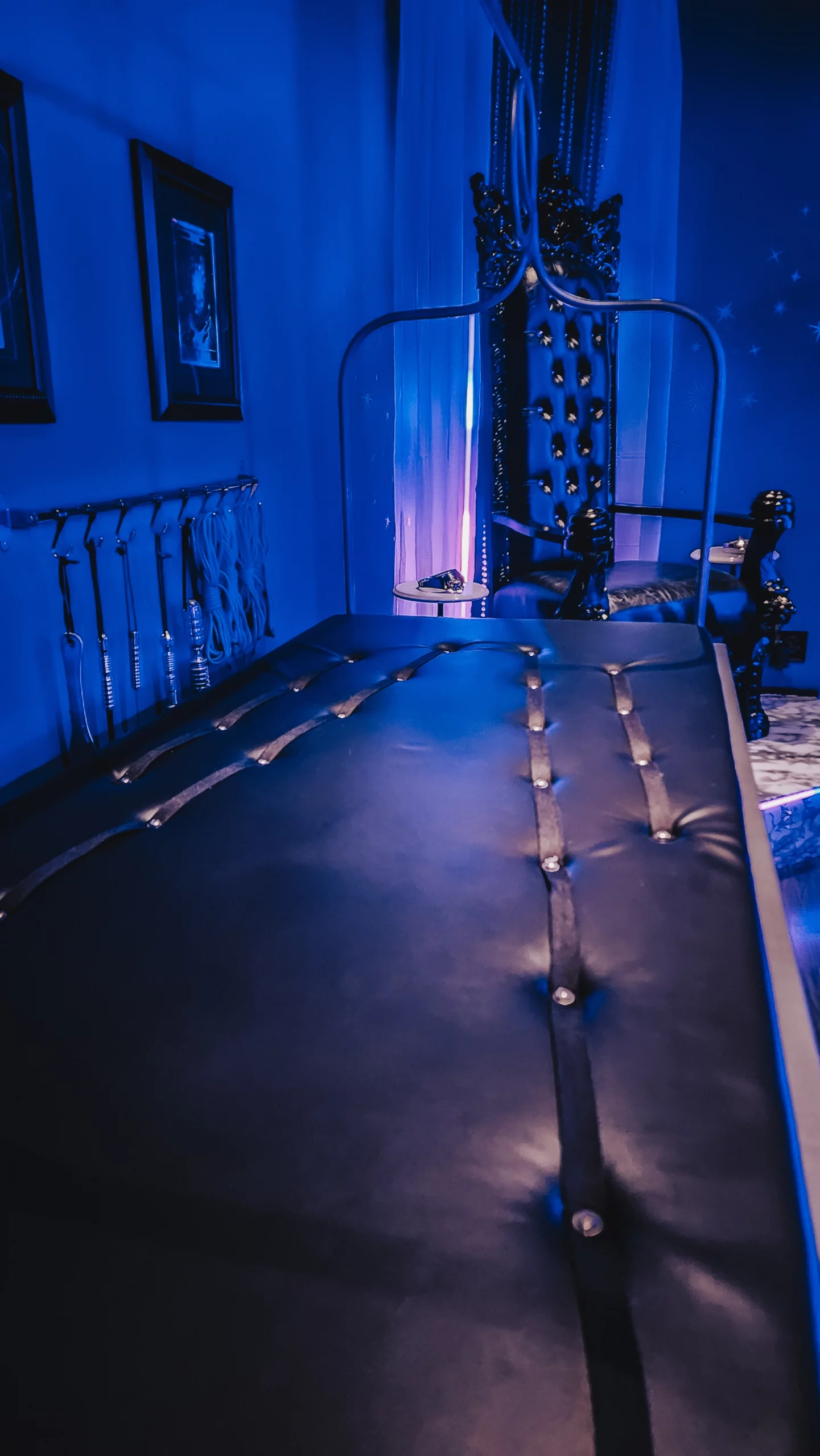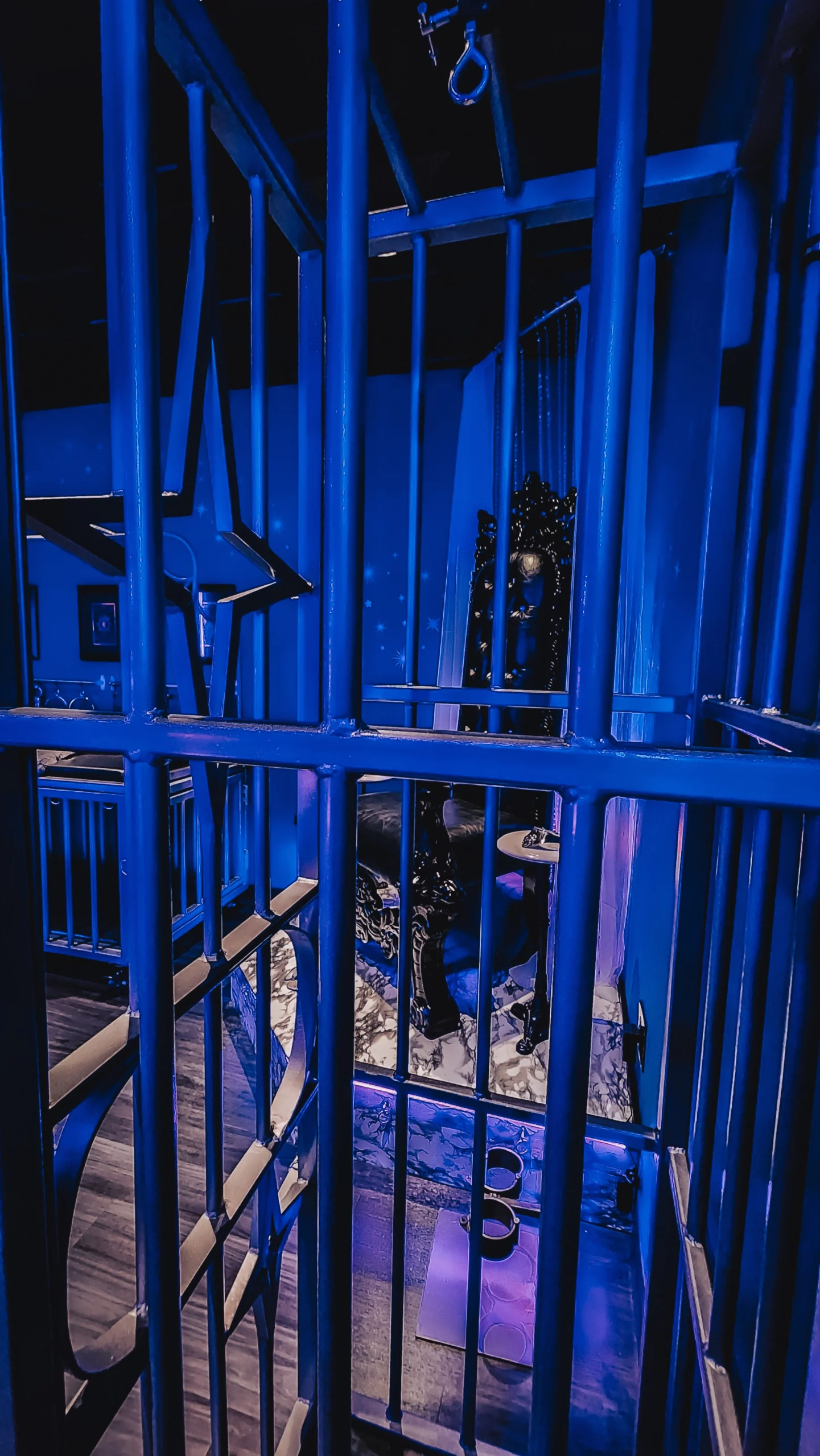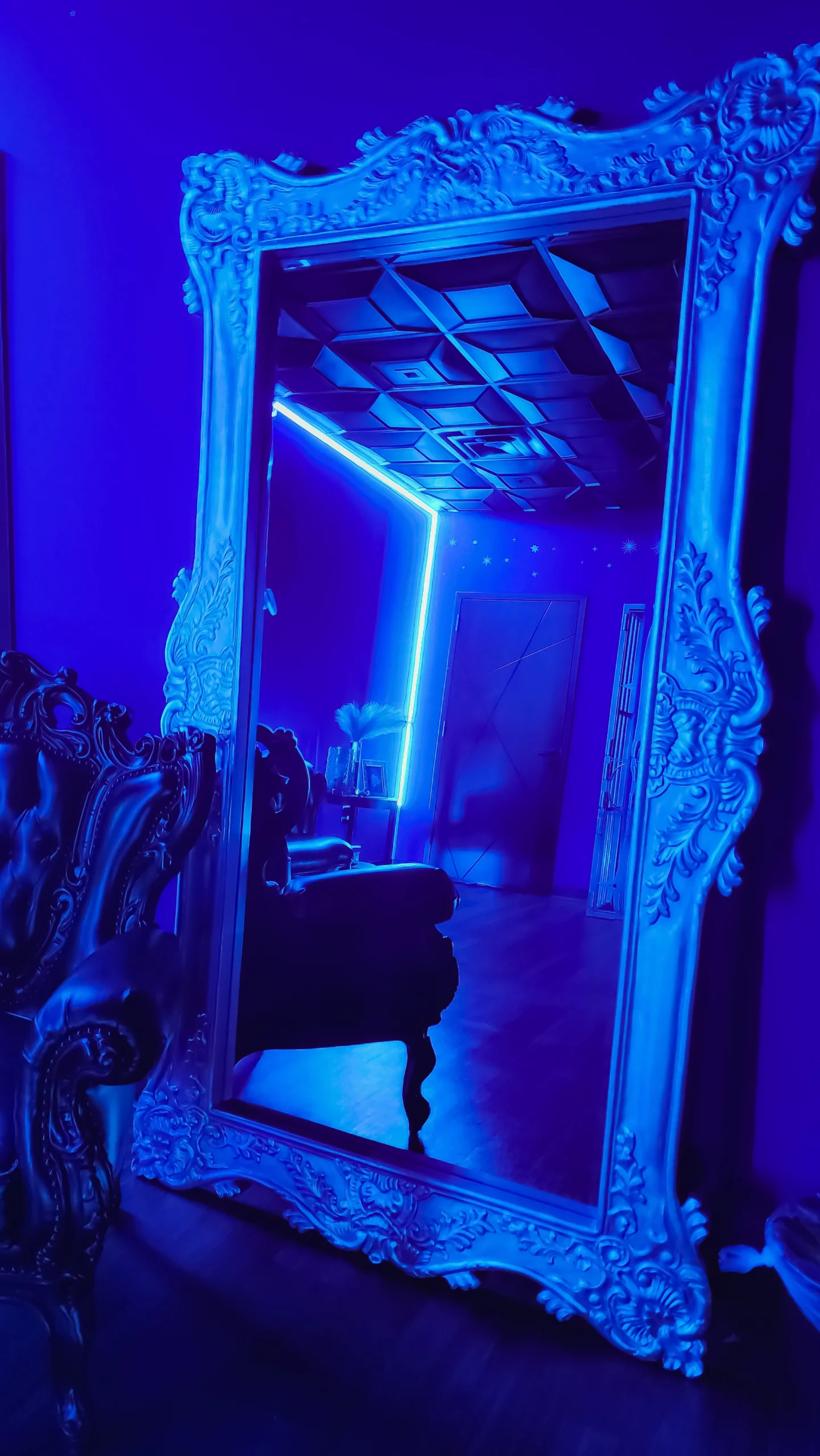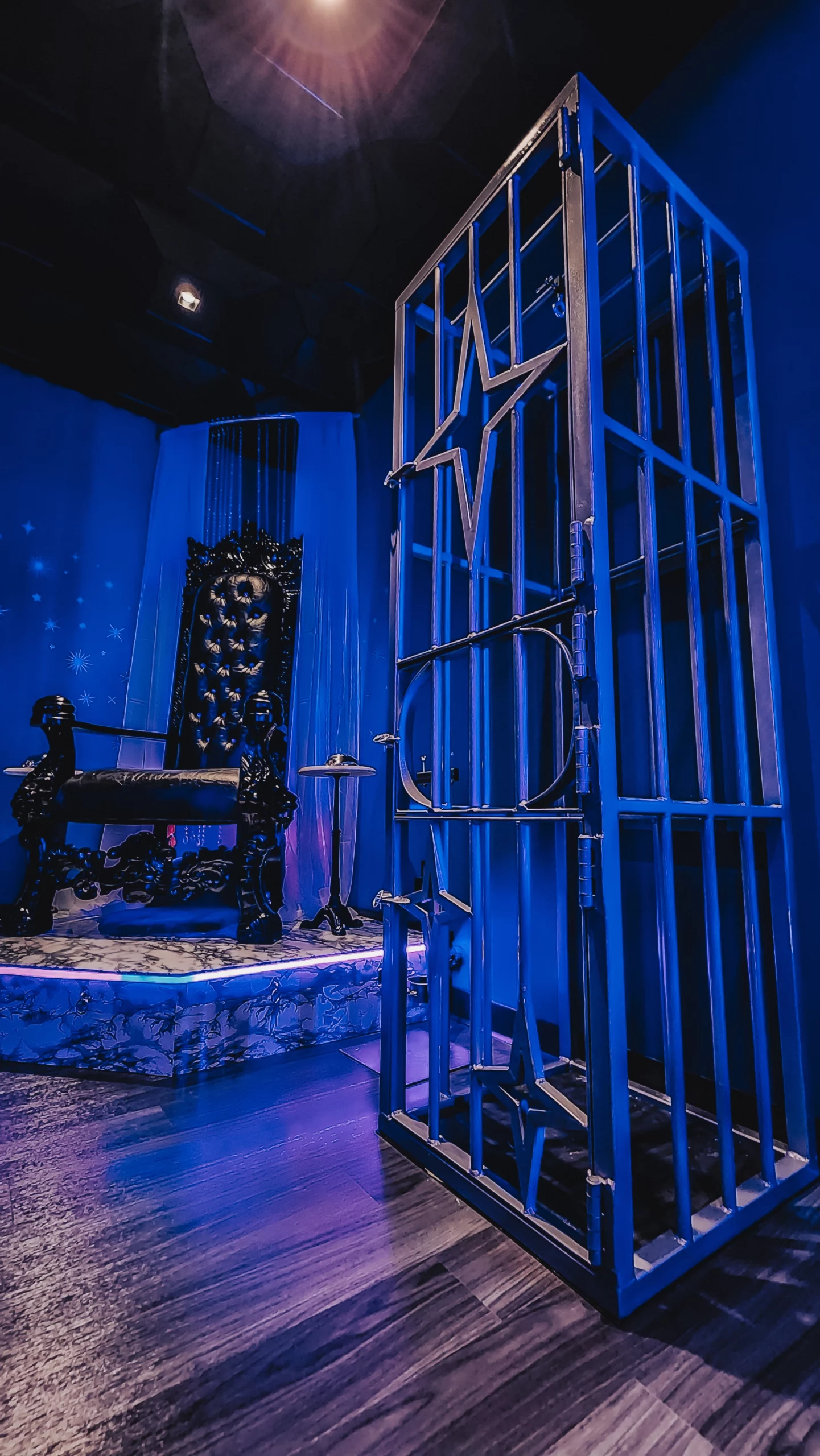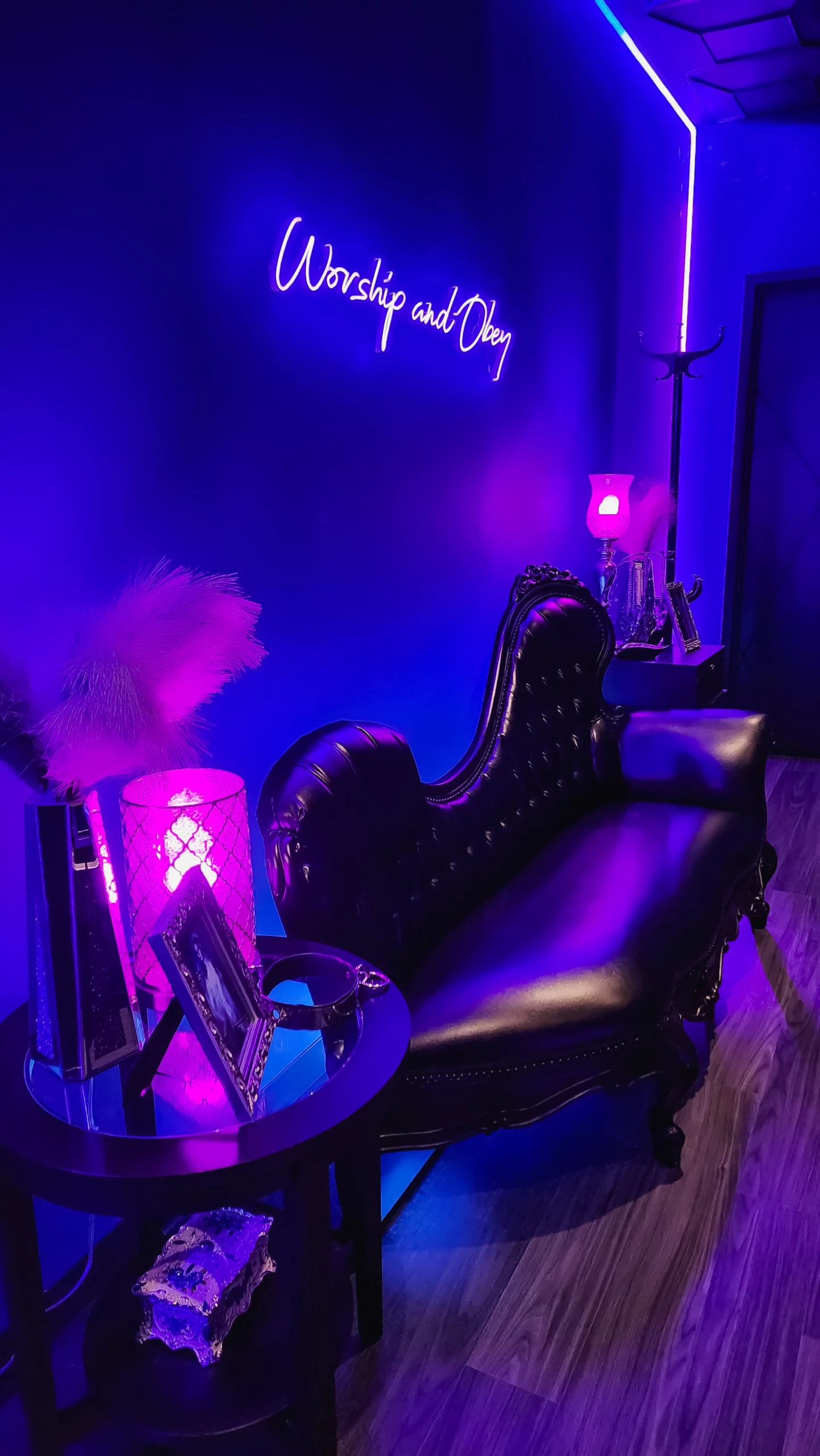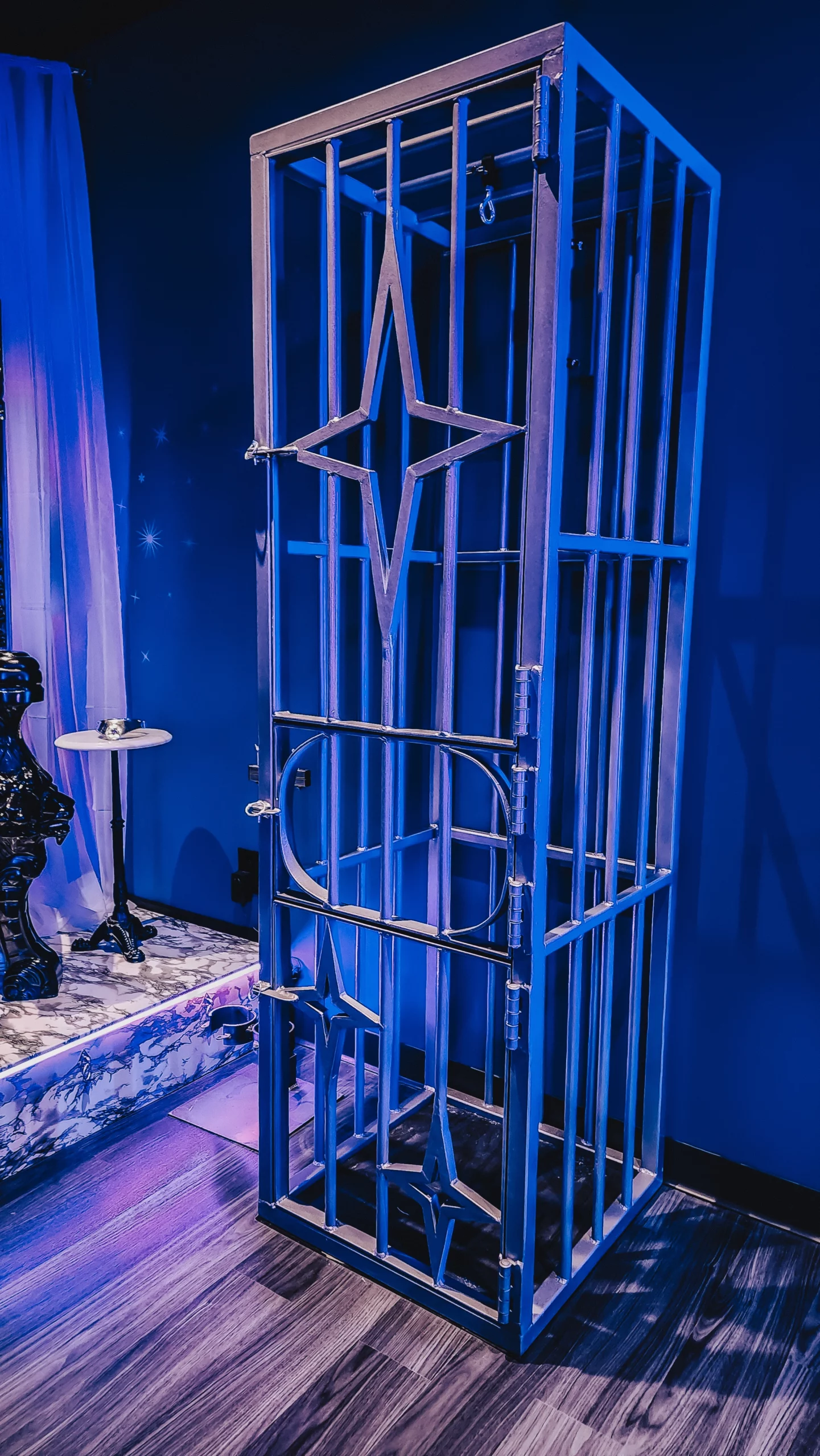 Welcome to Le Vestaire, the exquisite black and white dressing room at Wicked Eden. Step into a world of elegance and style, where every detail is meticulously curated to enhance your experience. Discover a carefully selected collection of wardrobe essentials, displayed on boutique-style shelving, offering an array of options to suit your desires. From stunning wigs to luxurious shoes and captivating accessories, Le Vestaire is your gateway to endless possibilities.
Indulge in the luxury of a full vanity adorned with high-quality makeup and accessories, inviting you to unleash your creativity and express your unique beauty. Admire yourself in the reflection of the abundant mirrors, strategically positioned to capture your every angle and celebrate your individuality.
At the heart of Le Vestaire lies the magnificent custom Goddess bondage bench from Heartwoods. This exquisite piece of craftsmanship is designed to separate into three distinct pieces, offering versatility for a variety of positions and uses. Experience the thrill of exploration and surrender as you embrace the possibilities within this exceptional space.
Le Vestaire is a sanctuary for self-expression and transformation. Whether you seek a glamorous metamorphosis, a moment of quiet introspection, or a thrilling exploration of bondage, this extraordinary room awaits your presence.
To view more photos, please view this site on desktop/tablet.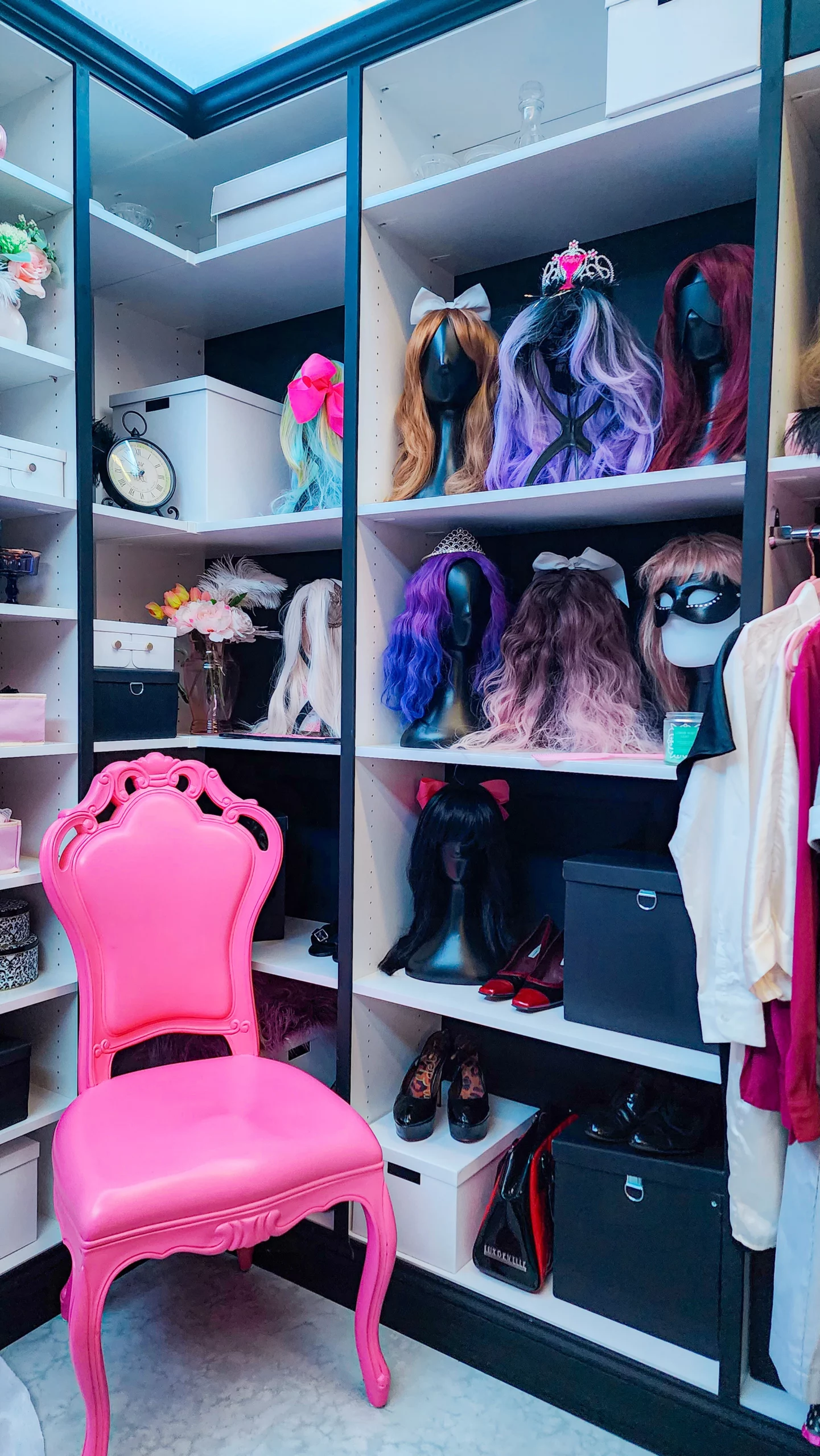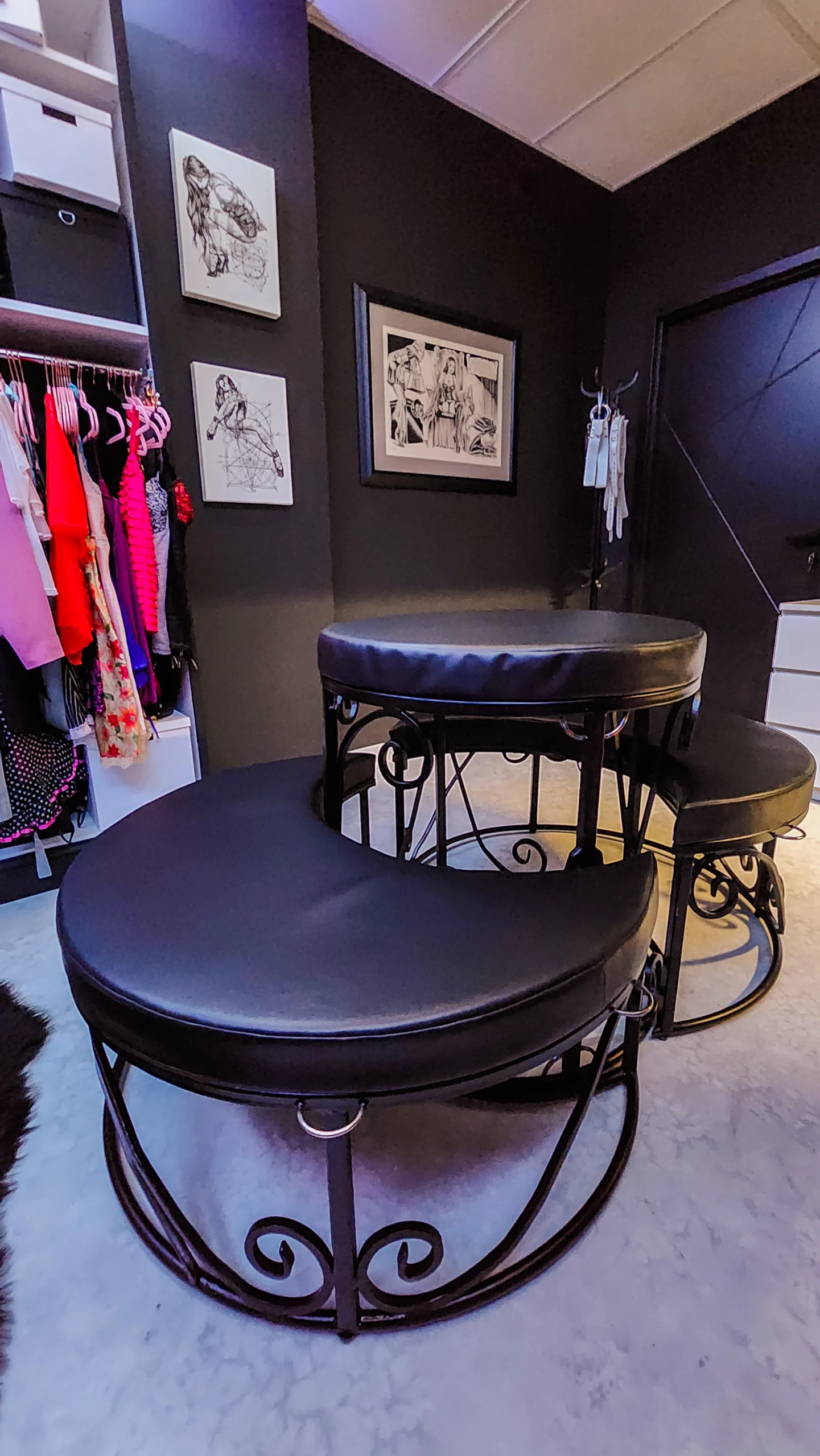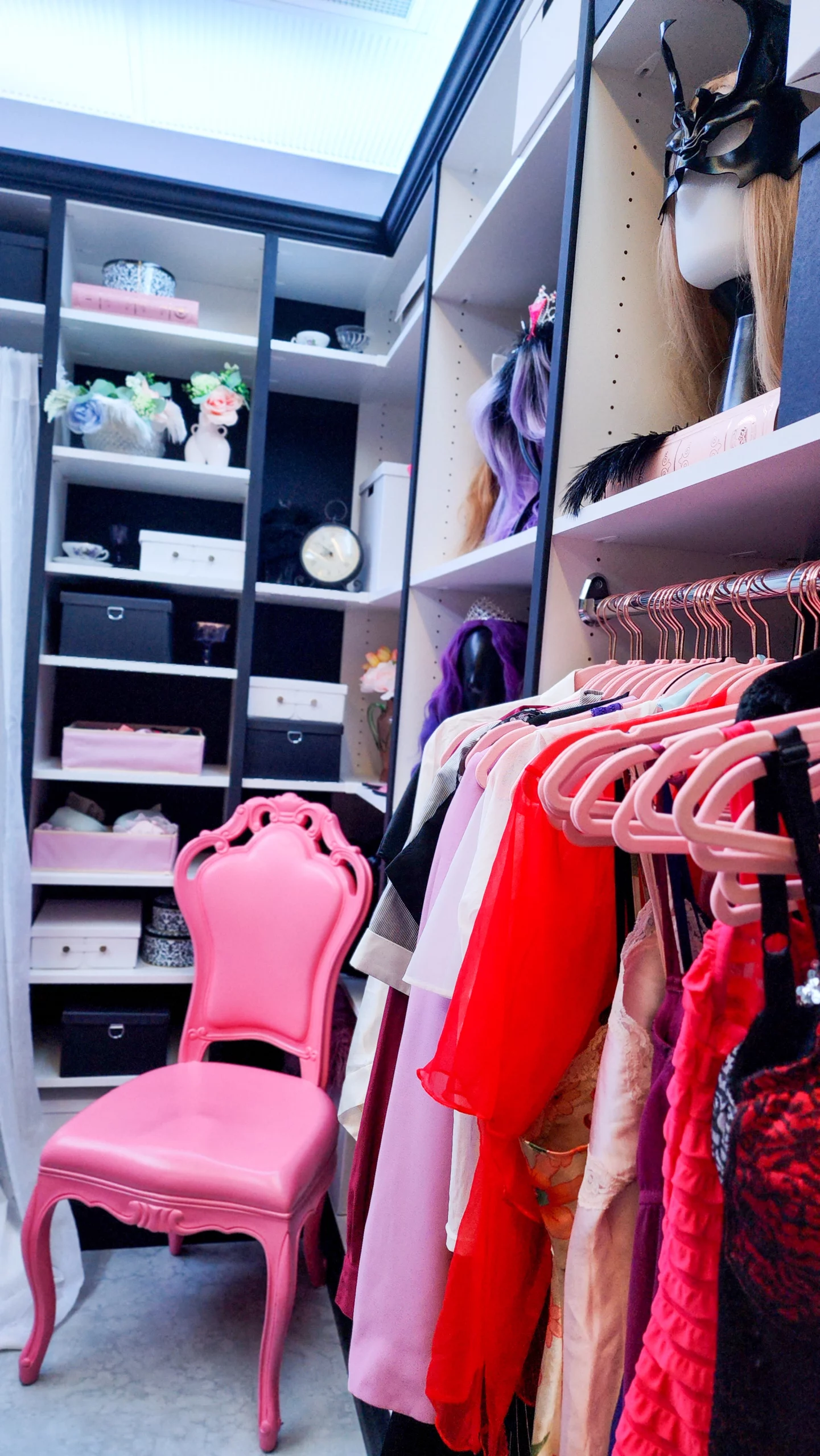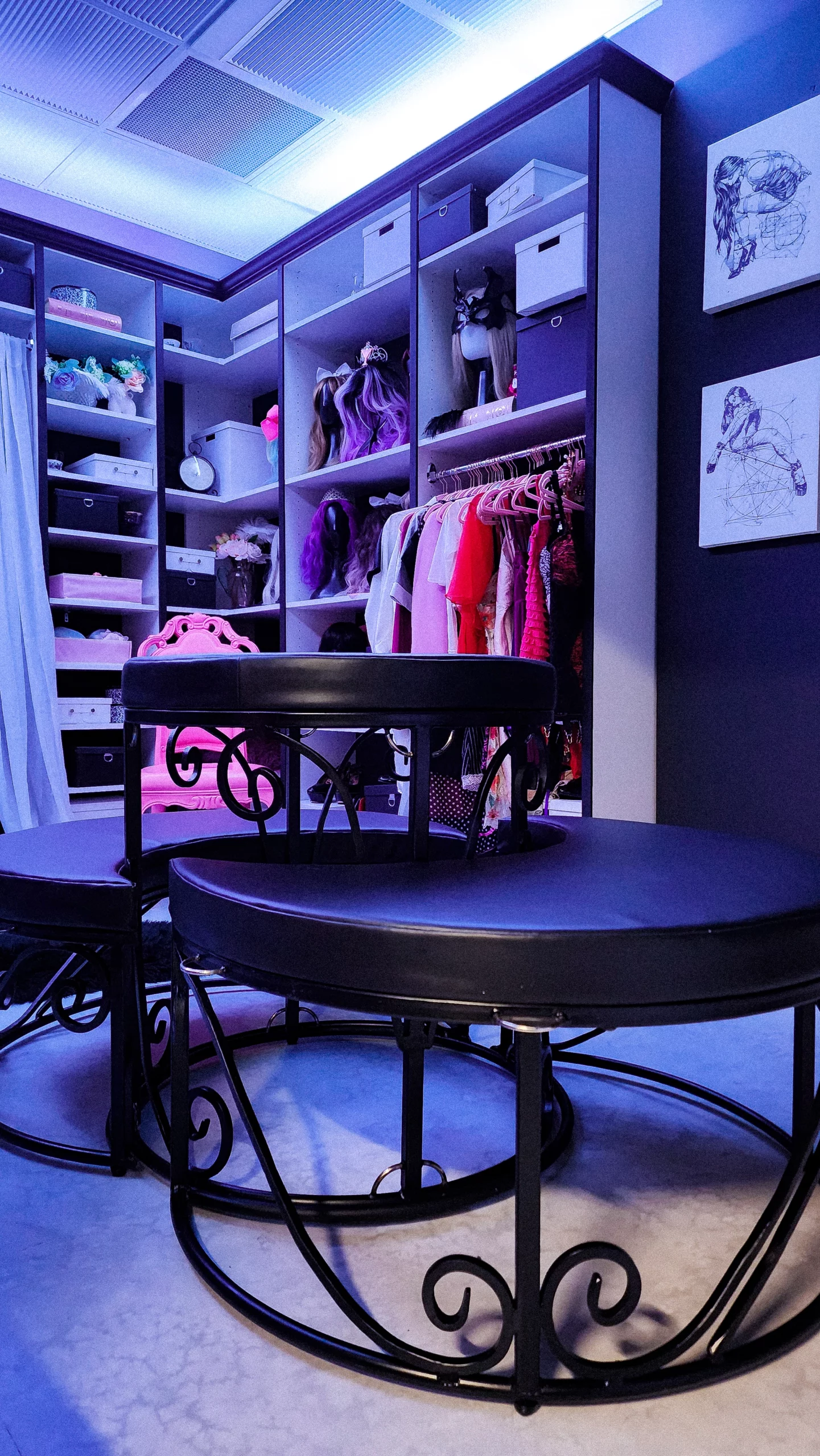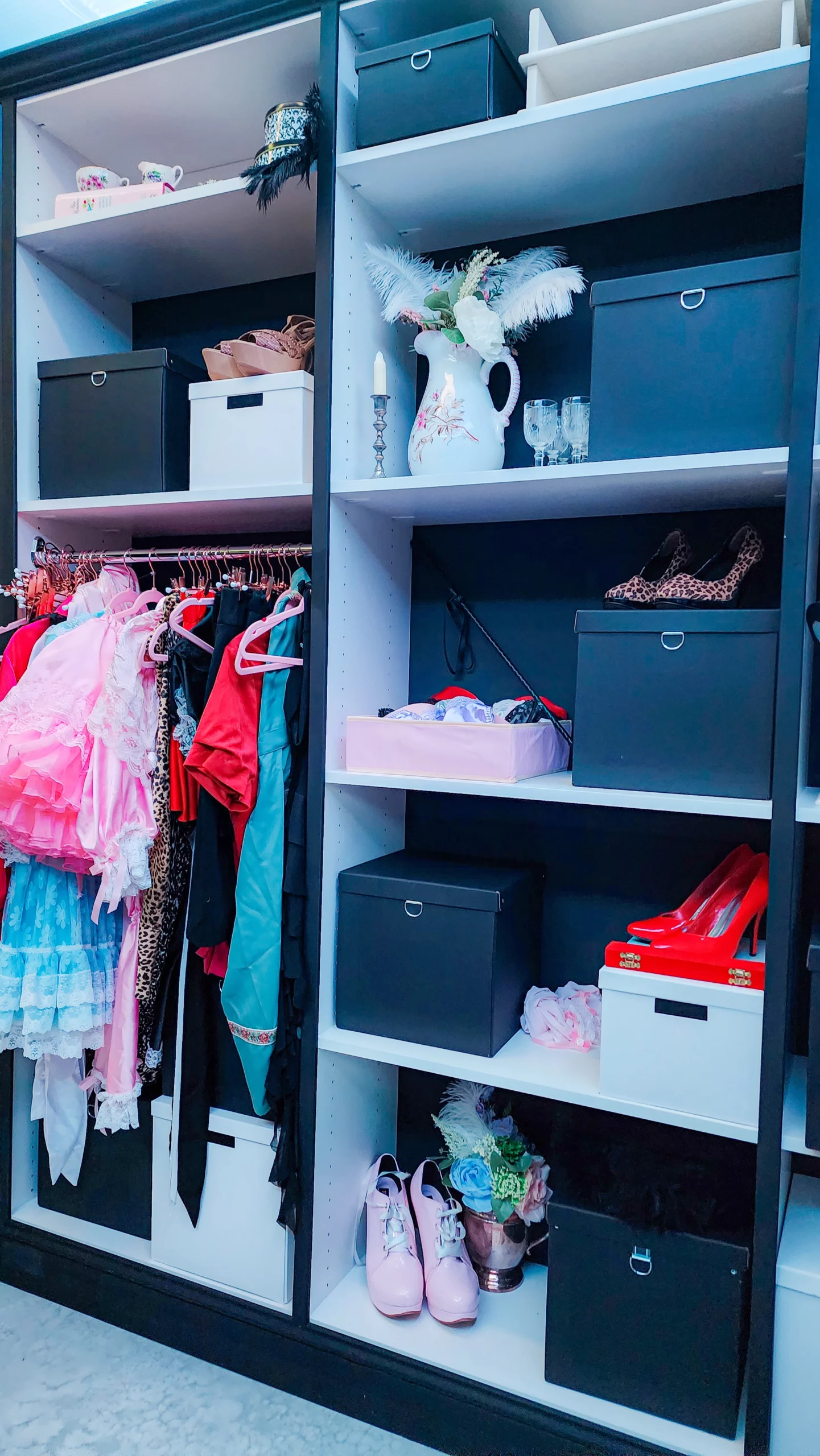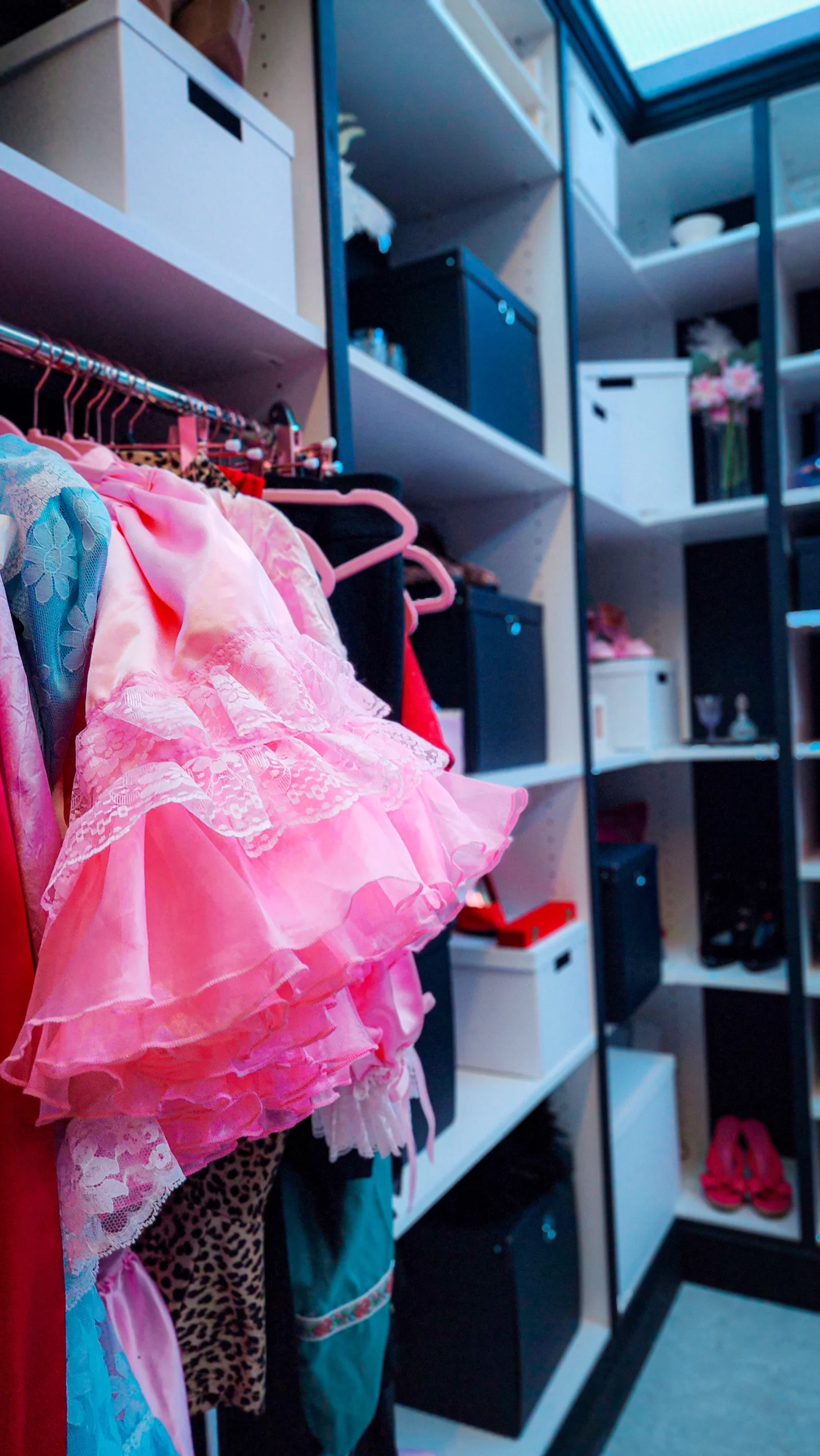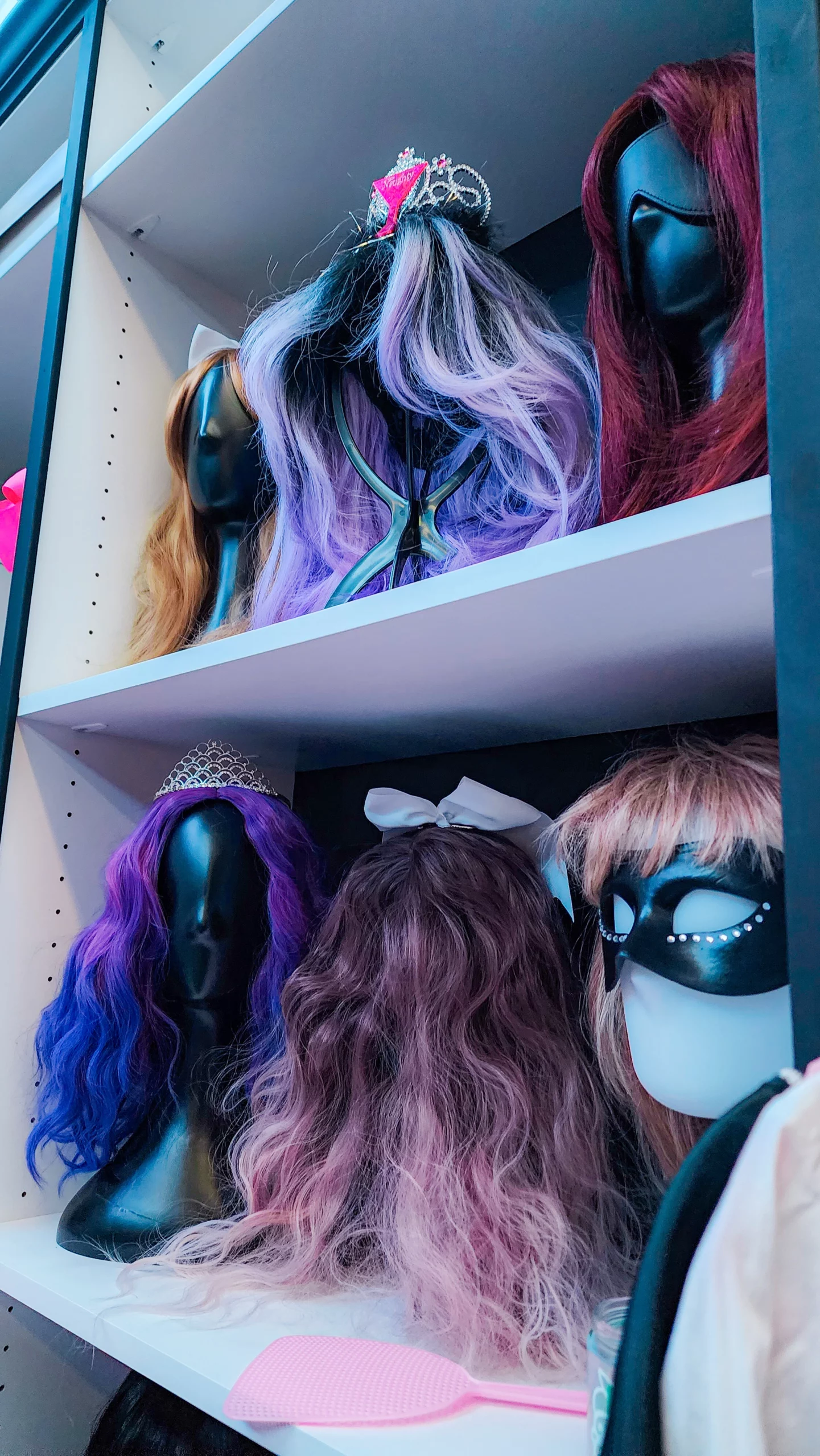 ThE CLINIC FOR RESTORATIVE THERAPIES
Experience the ultimate in bondage and medical play at "The Clinic for Restorative Therapies" at Wicked Eden. Step into this classic medical-themed room and indulge in a world of exquisite sensations and thrilling roleplay adventures.
With custom RGB panels, you have complete control over the ambiance, from a cruel and scary setting to a healing and relaxing atmosphere. Explore the limits of pleasure and pain as you recline on our fully adjustable hospital bed or assume commanding positions in our vintage medical chair.
Discover a treasure trove of specialty gear awaiting you in the cabinets. From enemas to sounds, pumps, and so much more, we have everything you need to bring your wildest medical play fantasies to life. Our collection is carefully curated to provide you with the tools to explore the depths of your desires.
"The Clinic for Restorative Therapies" is a haven for those seeking exhilarating experiences and unforgettable encounters. Whether you're an experienced practitioner or a curious novice, our room is designed to cater to your every need and fantasy. Surrender to the pleasure of bondage and delve into the exciting world of medical play in a safe and consensual environment.
To view more photos, please view this site on desktop/tablet.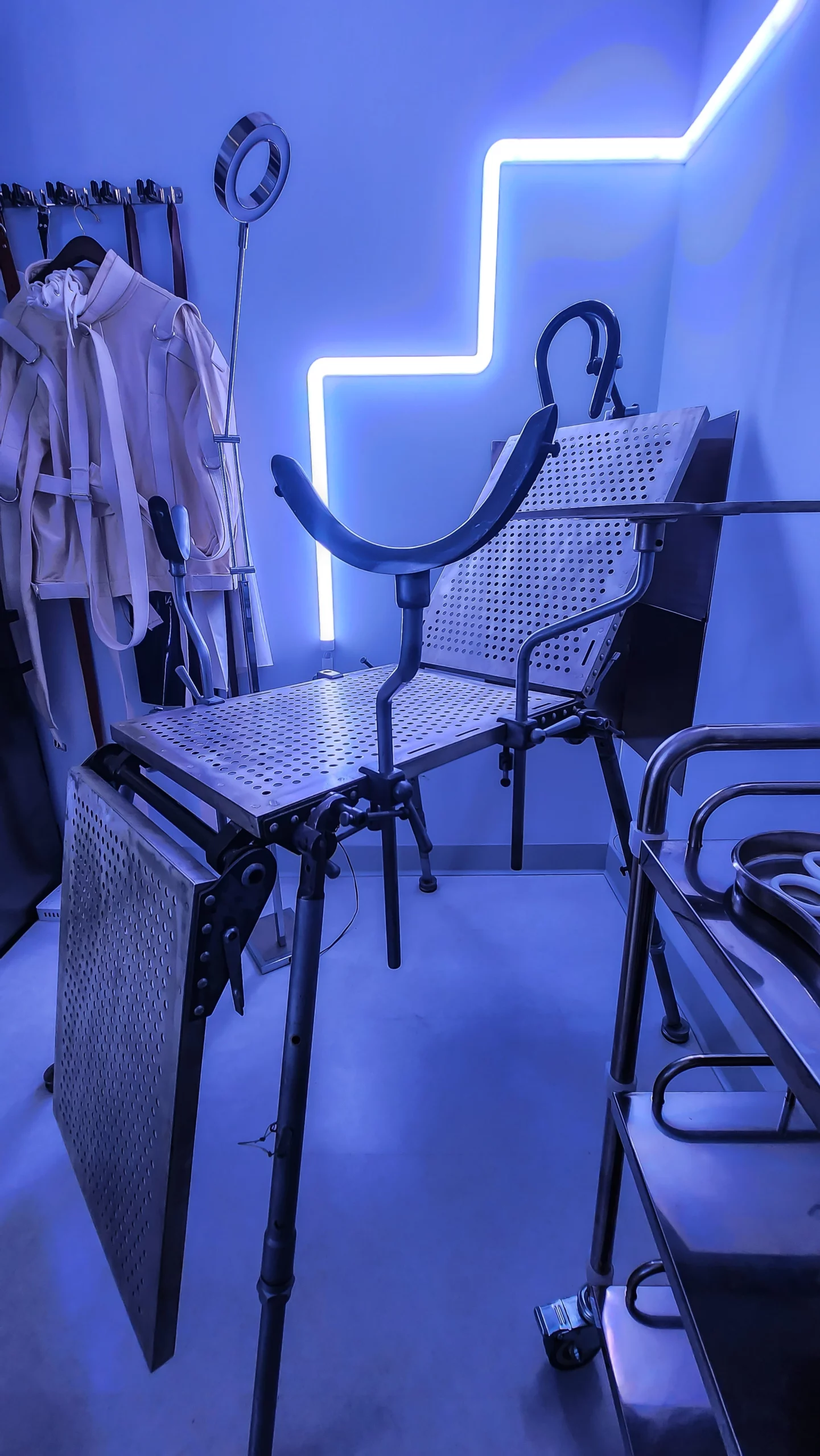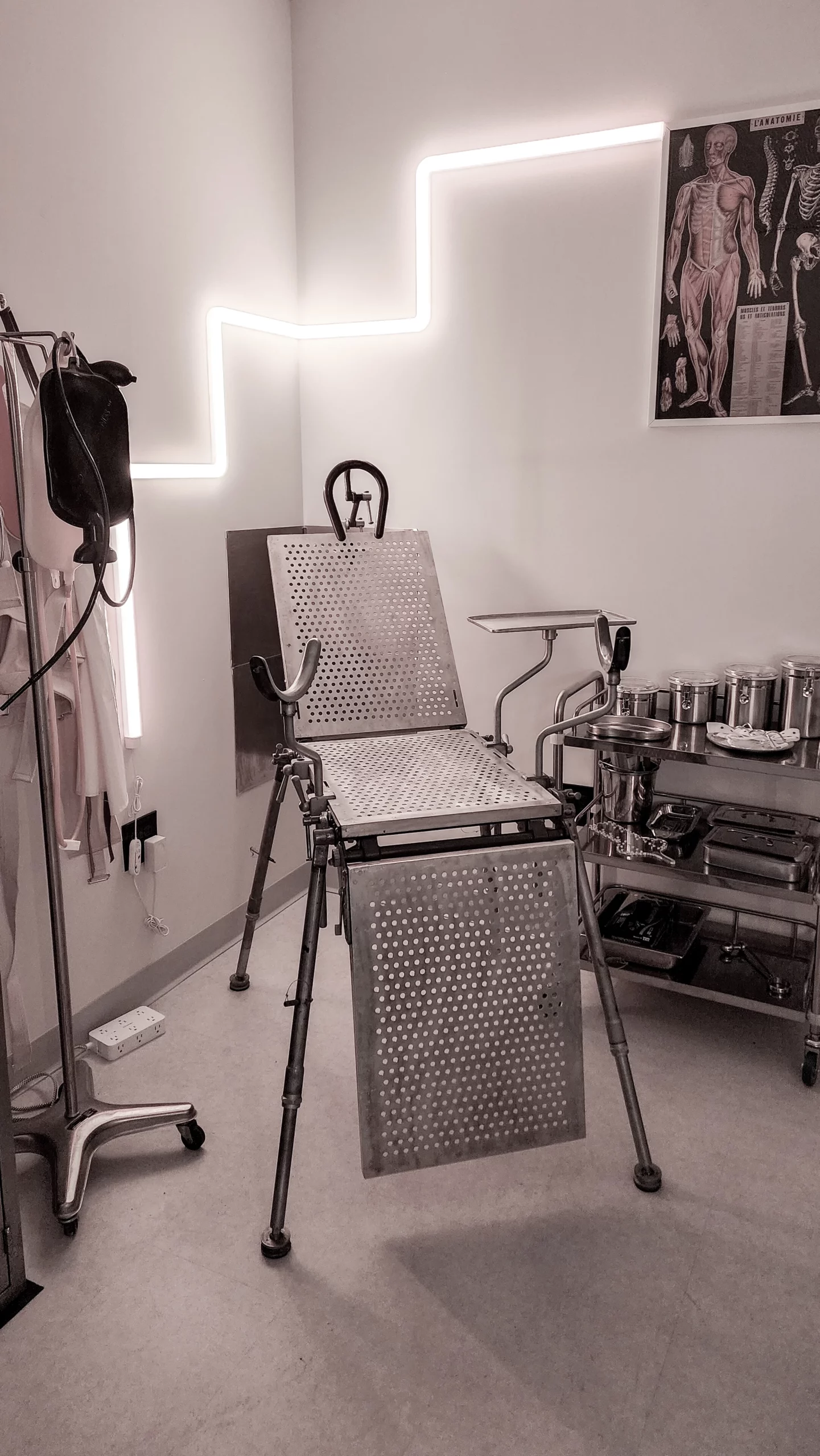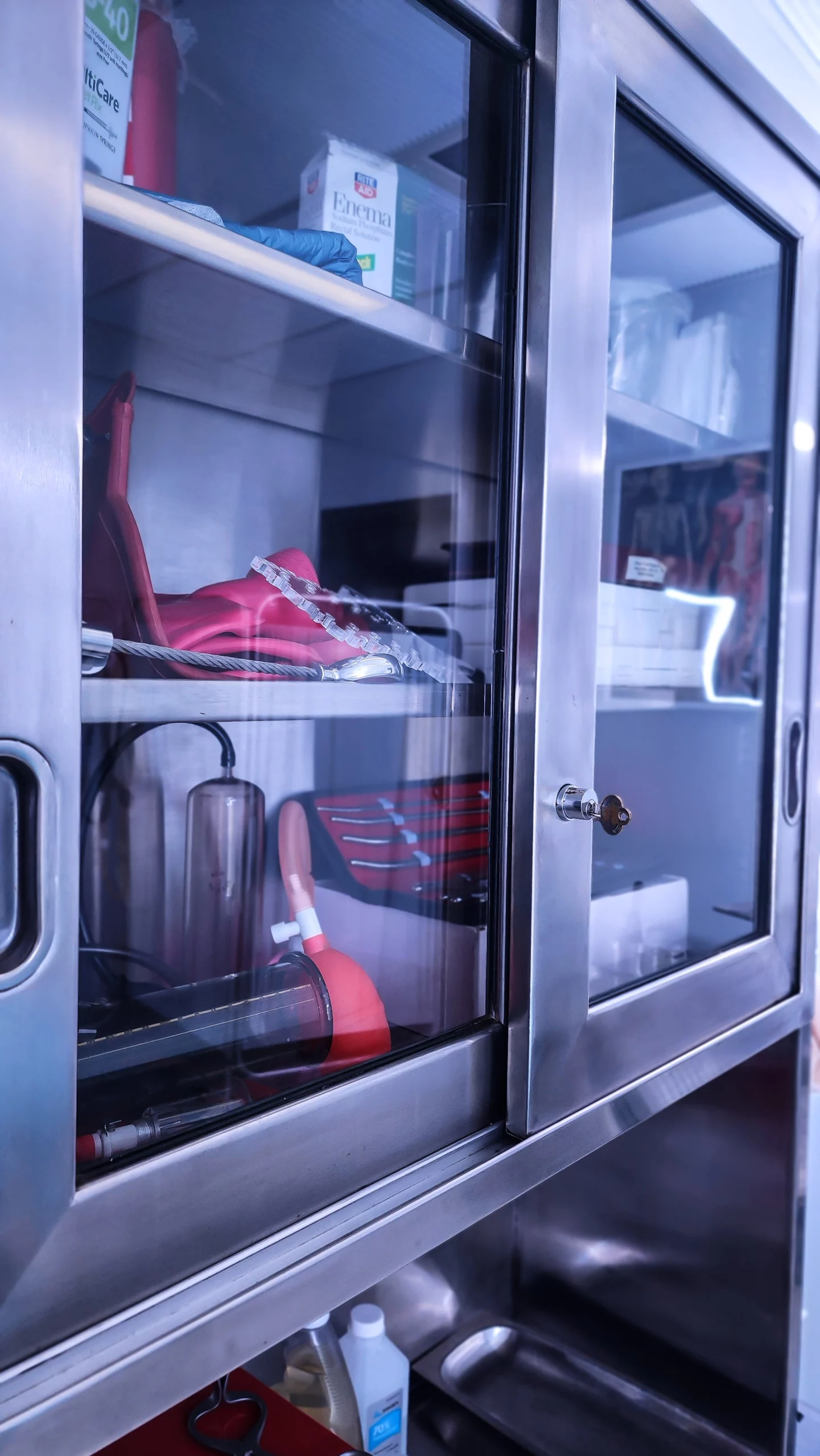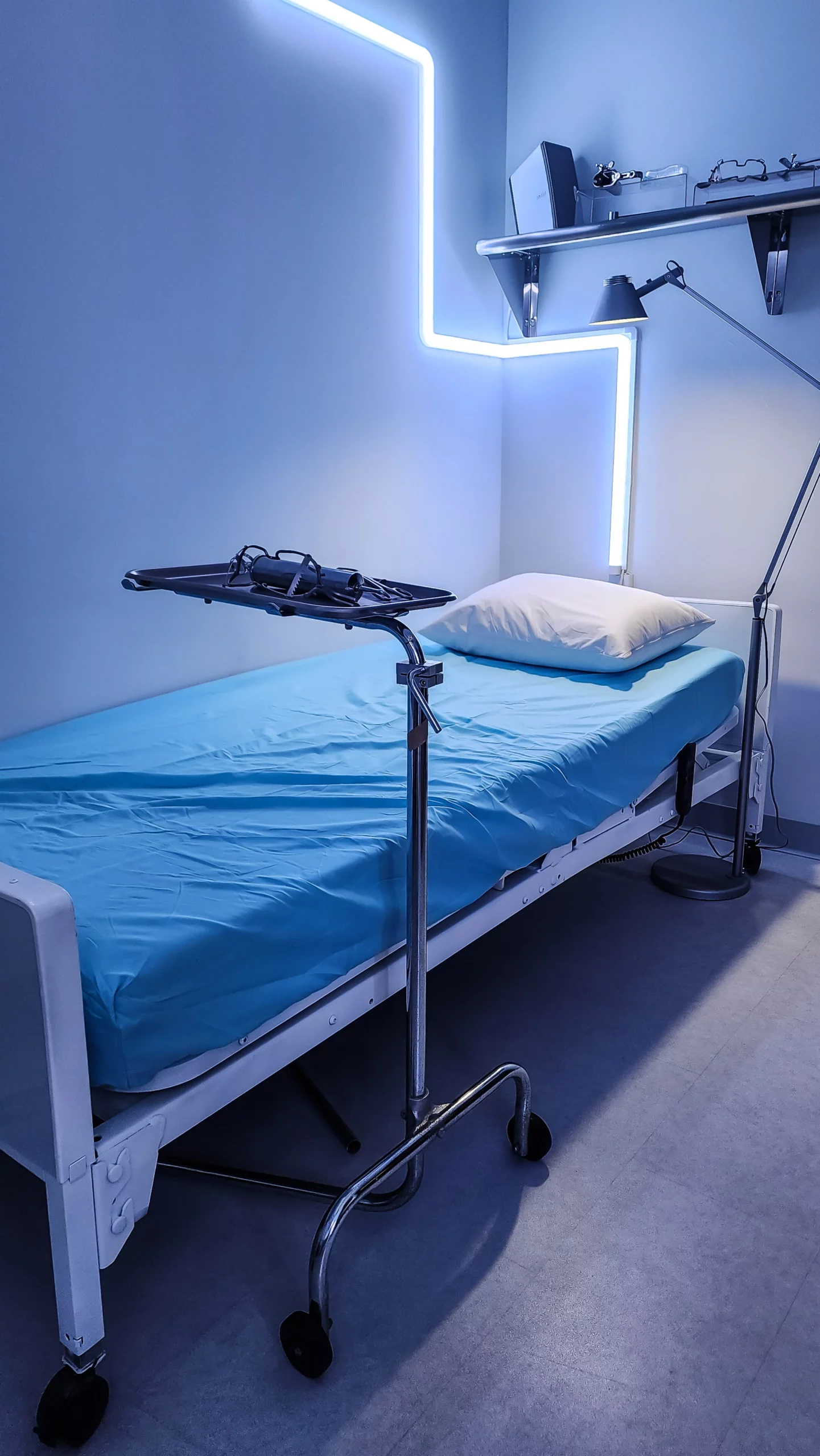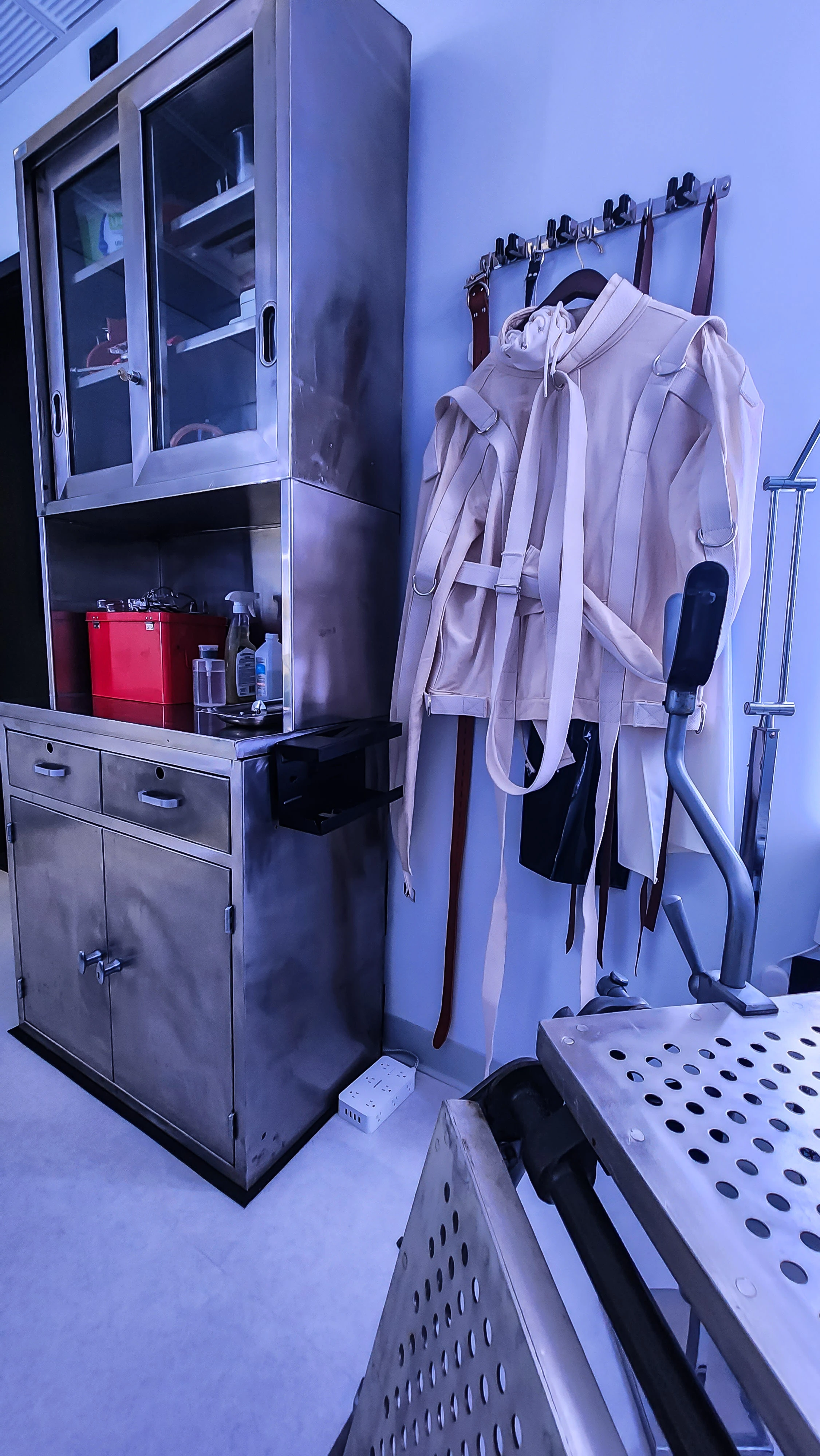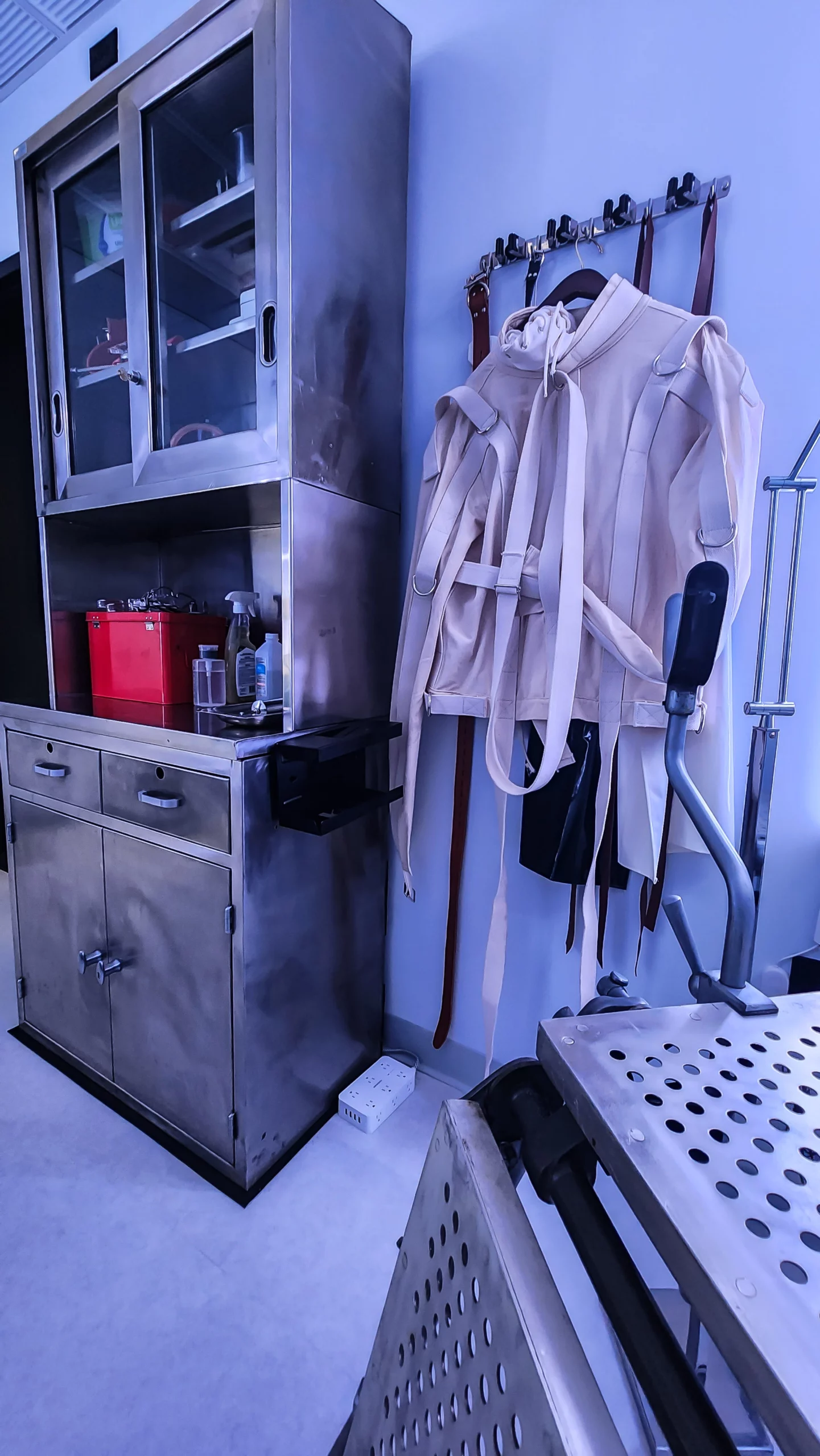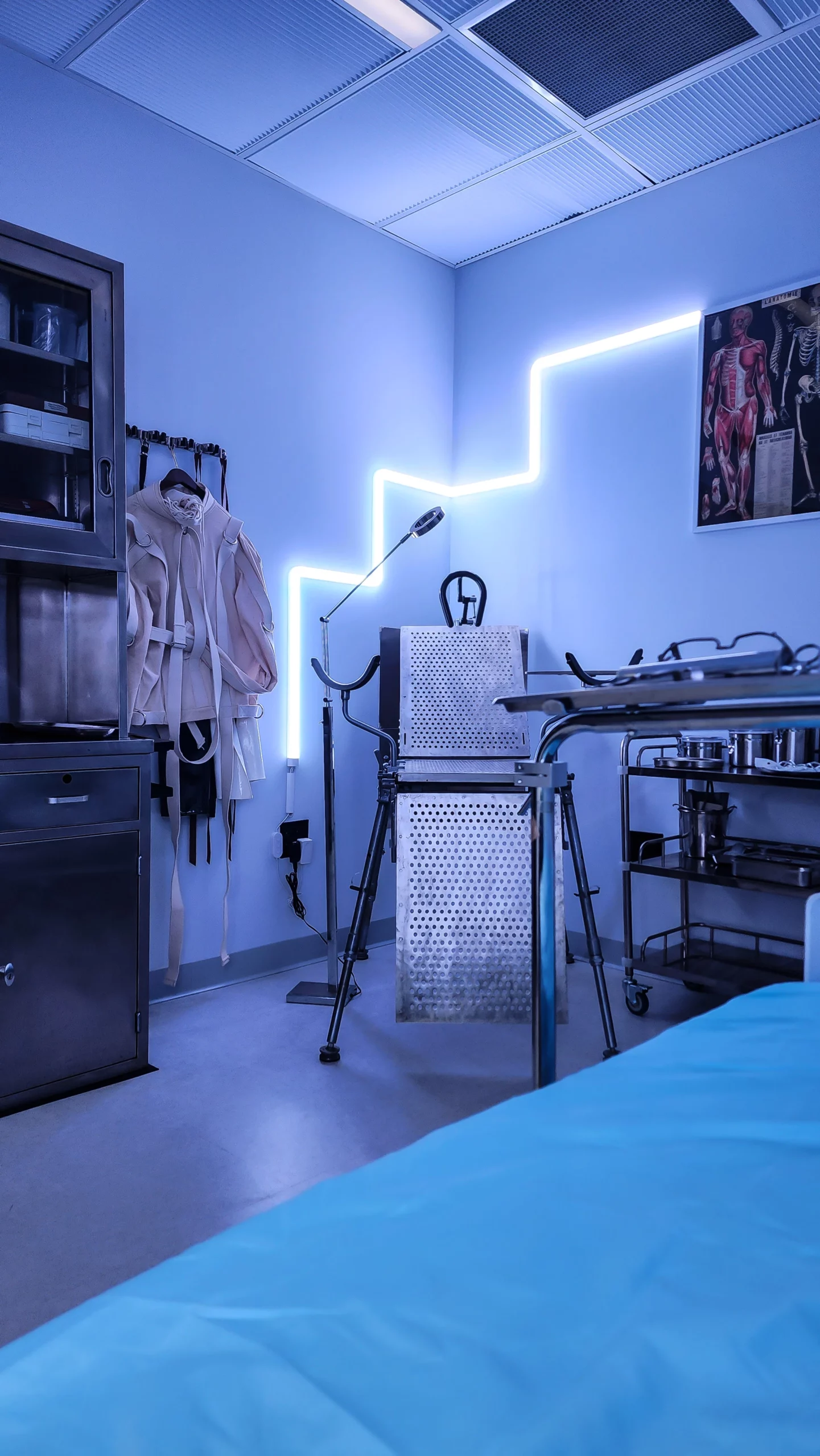 Step into the realm of transformation within the immersive embrace of the Reprogramming Room. This unique and exclusive space, crafted with Alexandra's personal touch, serves as her dedicated studio for intimate coaching sessions. Please note that this room is not available for solo rentals but can be requested for specialized sessions.
Prepare to be captivated by the hypnotic ambiance created by the RGB lighting, casting ethereal hues that set the stage for a truly immersive experience. The room exudes a stark psychological atmosphere, designed to transport you to the depths of your desires and awaken new dimensions of exploration.
At the heart of this room stands the vintage Ritter chair, a timeless masterpiece dating back to 1927. This remarkable piece of history not only adds an aura of authenticity but also offers complete functionality, providing the perfect seat for intense moments of self-discovery and surrender.
However, what truly sets the Reprogramming Room apart is the cutting-edge TV and sound system. This dynamic feature allows for the seamless integration of video playlists, carefully curated to complement and enhance the themes of your play. Immerse yourself in captivating visuals and evocative soundscapes, transporting you deeper into the realms of your fantasies.
Please note that access to the Reprogramming Room is exclusively reserved for coaching sessions with Alexandra Snow and is not available for rental. It is here that she utilizes her expertise to guide and facilitate transformative experiences, empowering individuals to explore their desires and unlock their full potential.
To view more photos, please view this site on desktop/tablet.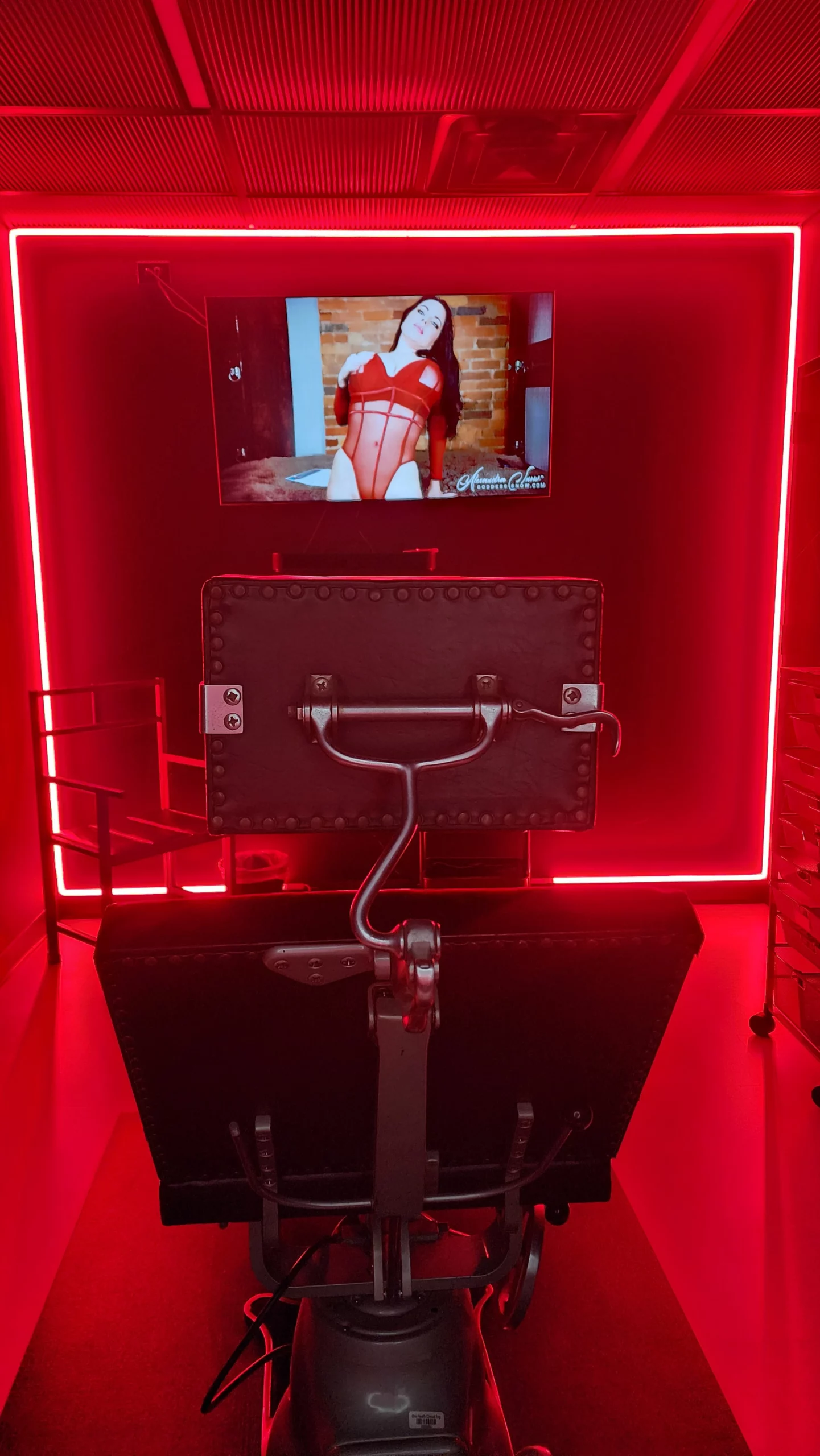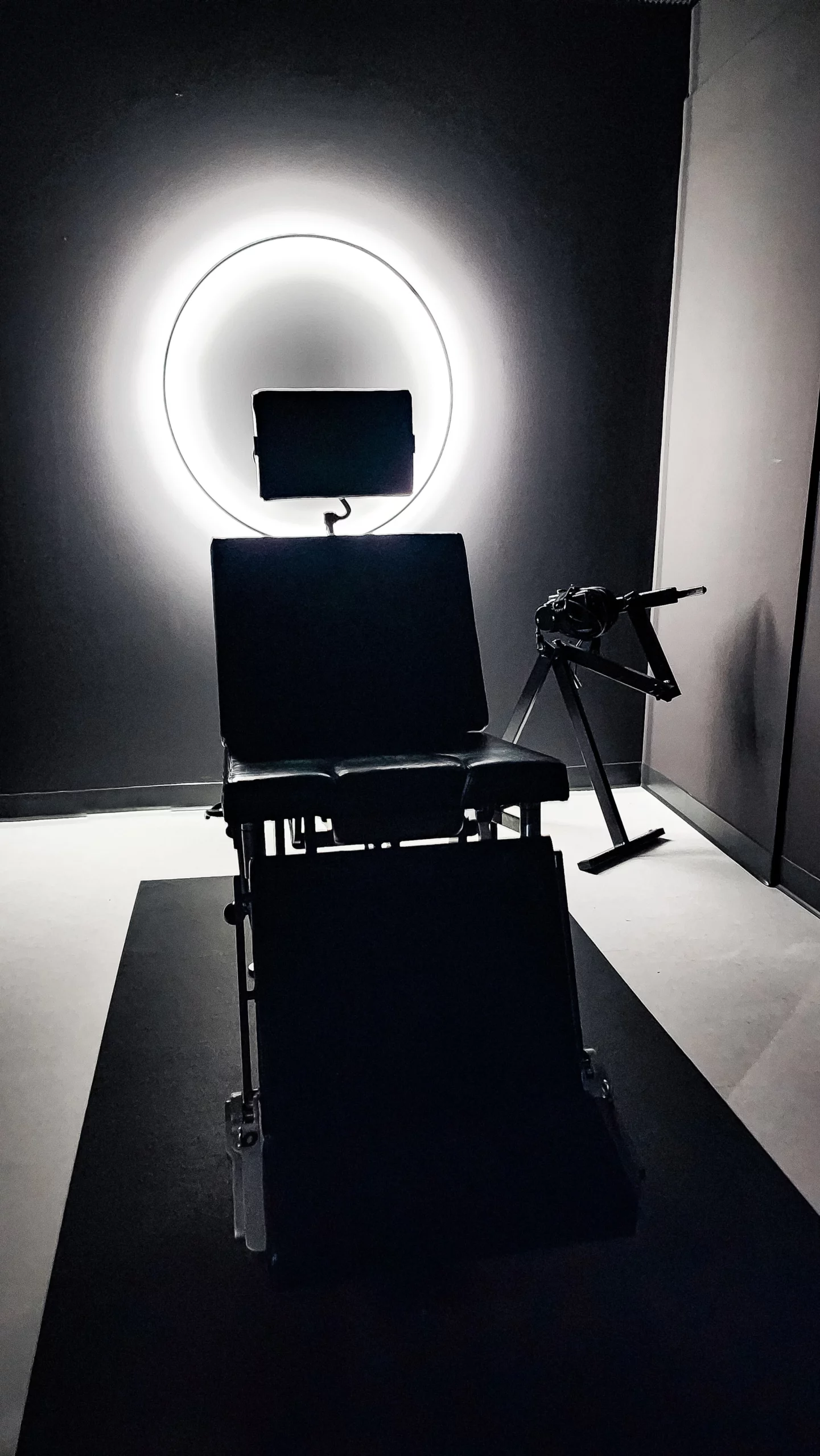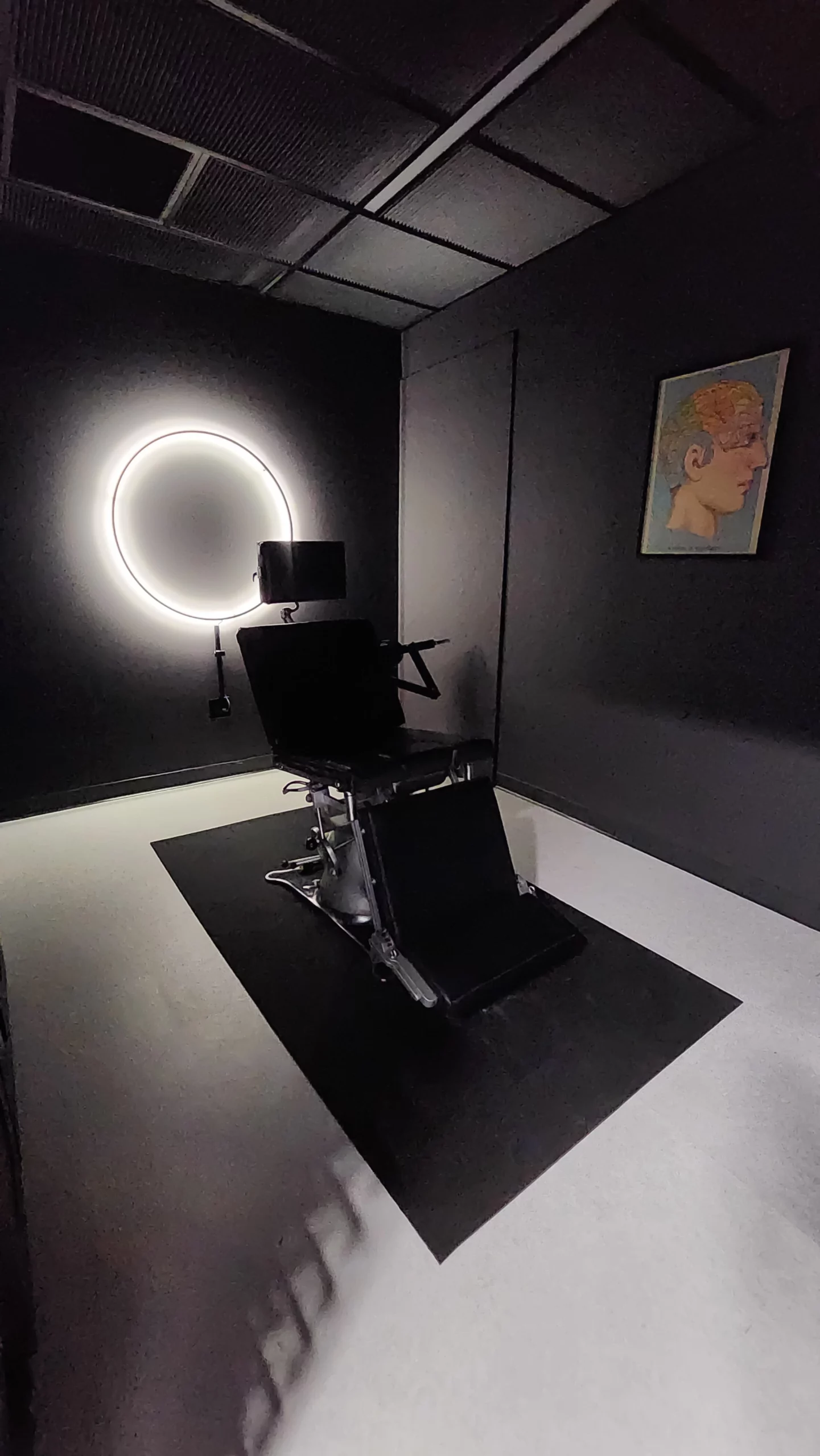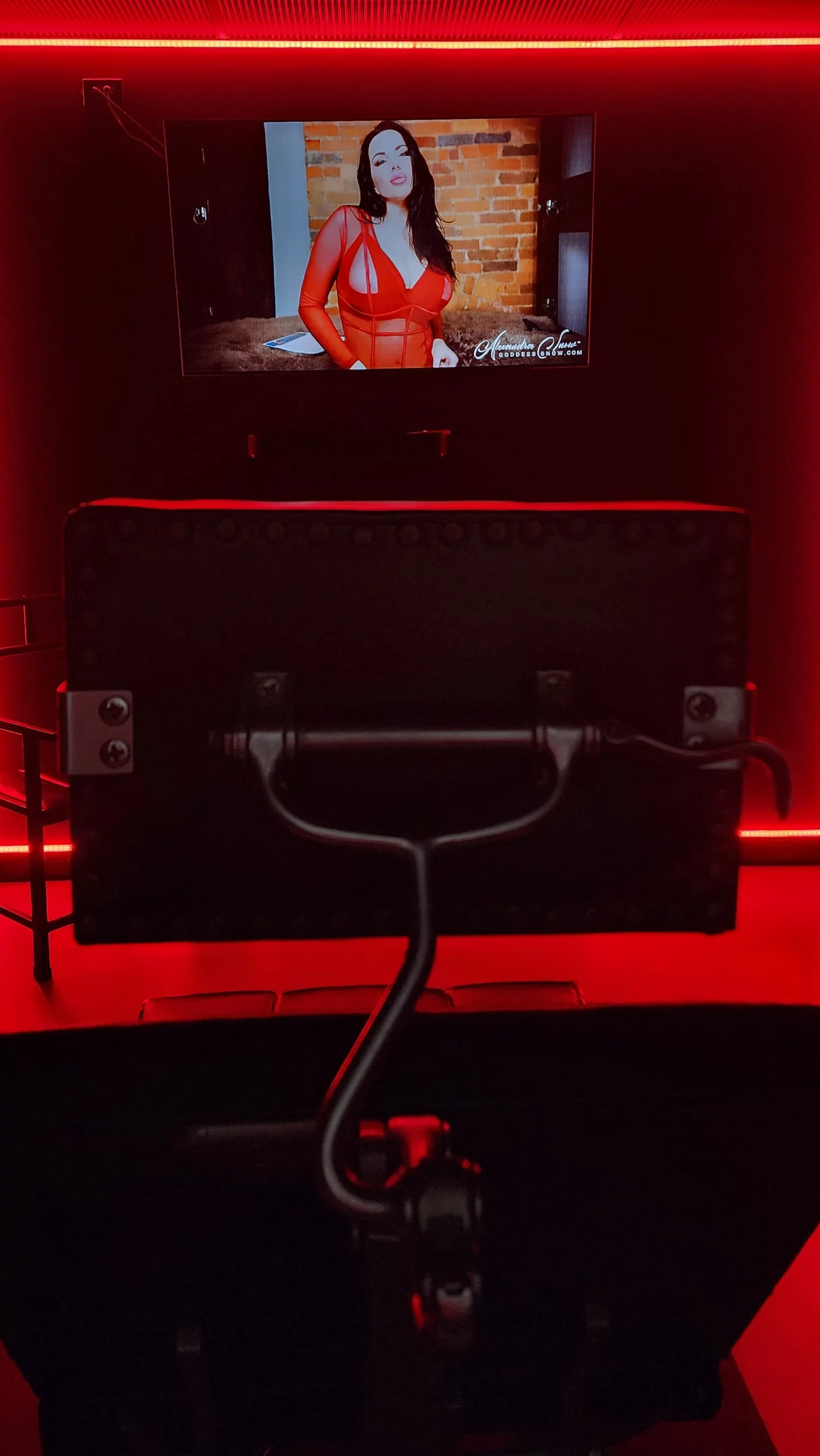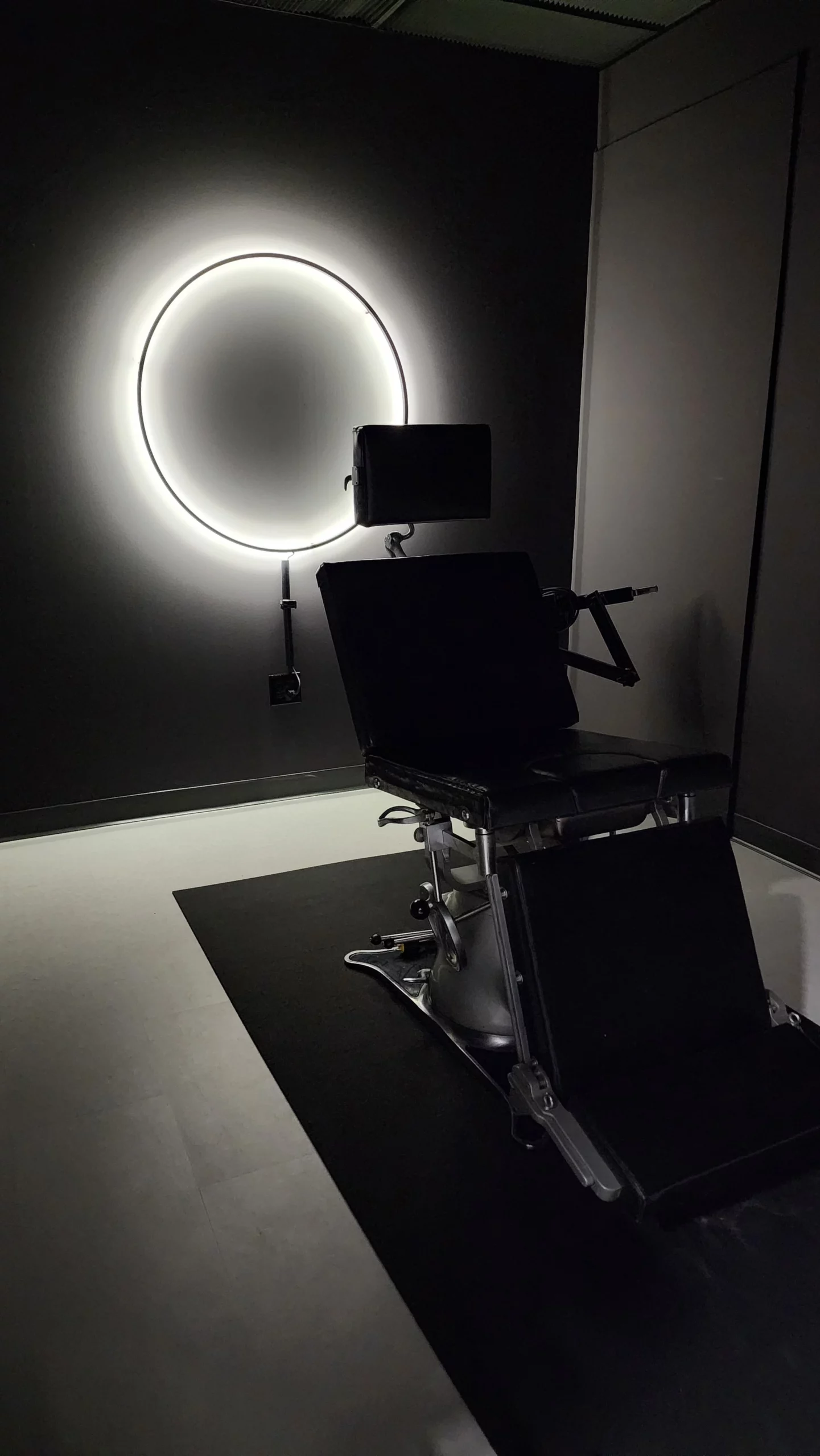 Unveiling a world of pleasure and exploration, our expansive toy closet stands ready to enhance your rental experience. This captivating add-on offers an impressive collection of high-quality equipment and enticing toys, meticulously curated to cater to a diverse range of desires.
Delve into a treasure trove of possibilities as you peruse our carefully assembled selection. From restraints to impact tools, sensation play to electro-stimulation devices, our toy closet is a sanctuary of temptation, awaiting your indulgence. Discover the perfect instrument to ignite your passion and unlock new realms of pleasure.
To ensure the integrity and availability of our esteemed collection, a security deposit is required. We value the craftsmanship and quality of our gear and take great care to preserve its pristine condition. The deposit acts as a safeguard, assuring responsible use and guaranteeing the continued enjoyment of all who come to embrace their desires within our sanctuary.
Rest assured that your deposit will be returned promptly upon the satisfactory return of the toys and equipment, free from damage or loss. We believe in fostering an environment of trust and respect, where every adventurer can fully immerse themselves in the exploration of their desires.
Please note that availability of specific items may vary, as we constantly strive to curate an ever-evolving collection unique toys.