The Autonomy Project is a 501c3 nonprofit dedicated to fostering a safe, inclusive, and empowering environment where individuals from the LGBTQ+, alternative lifestyle, and sex work communities can thrive.
Discover Your Space. Embrace Your Journey. Connect With Your Tribe.
Welcome to The Autonomy Project – a vibrant sanctuary for those who dare to live authentically. Nestled in the heart of diversity and acceptance, we are more than just a community; we are a movement. A movement that celebrates every color of the human spectrum, where the LGBTQIA+, kinky, curious, and all who seek personal growth find a home.
We believe everyone has a right to make their own choices about their bodies, identities, and lives–and we work hard to support those choices.
We believe everyone deserves safe spaces where they can be themselves without fear of judgment or violence. We believe everyone deserves education on sexual exploration, gender identity, and alternative lifestyles so they can make informed decisions about their bodies and relationships. We believe sex work is work, and sex workers deserve the same rights and protections as everyone else.
We are dedicated to reclaiming space for those who have been marginalized due to their race, gender identity, experiences in sex work, alternative lifestyles, LGBTQIA+ identities, or simply because they defy society's narrow definition of "normal." We stand firmly in solidarity with individuals who have been pushed to the fringes, offering support, empowerment, and a safe haven where they can freely express their true selves. Our mission is to challenge societal norms, dismantle oppressive systems, and create a world where everyone can live authentically and unapologetically. Together, we strive to build a community that celebrates diversity, fosters inclusivity, and advocates for the rights and autonomy of all individuals.
We know that our work isn't done yet. There are still many people who feel marginalized because of their sexuality. Many people still don't know how to navigate their desires. Many people still feel ashamed of who they are at their core because society tells them they shouldn't exist.
We believe education should be accessible and obtainable for everyone and fight against gatekeeping in our communities.
We believe the LGBTQIA+ community deserves safe spaces to explore their identities without fear of discrimination or marginalization.
We work hard to eradicate racism and marginalization by supporting marginalized members of our community through education and activism.
We seek to provide safe spaces for trans and gender nonconforming people along with community support and education about gender identity, sexual identity, and the evolving state of societal understanding.
We provide sex-positive education and promote healing, freedom, and connection between people by providing opportunities for growth and connection, in-person and online.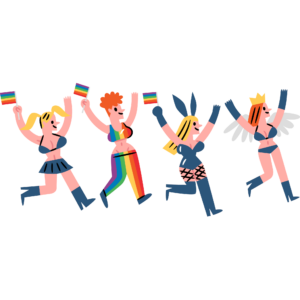 Join Us, and Be Part of Something Extraordinary
Here, empowerment isn't just a word; it's our mission. We believe in the power of knowledge, the strength of community, and the transformative impact of personal empowerment. Our events and programs are thoughtfully designed to uplift, educate, and inspire, fostering an environment where every individual can thrive.
Events That Spark Joy: From lively themed parties to serene gatherings, our events cater to a wide range of interests and provide a platform for joyful, shared experiences.
Workshops That Enlighten: Engage in our diverse range of workshops that empower you with knowledge, skills, and insights, facilitating both personal and professional growth.
A Community That Cares: Connect with like-minded individuals who share your passion for authenticity and self-expression. In our community, every voice matters, every story is valued.
A Unique Space to Create: Allow our beautiful space inspire you to create, whether it be photography, videography, art, or unique experiences for yourself or a partner.
Are you ready to embark on an unforgettable journey? Are you ready to discover the depth of your potential, the joy of being part of a community, and the freedom of living your truth?
Join The Autonomy Project today and take the first step towards a life of authenticity, connection, and empowerment. Here, you are free to be you, in all your unique splendor.
Explore. Grow. Connect. This is The Autonomy Project.