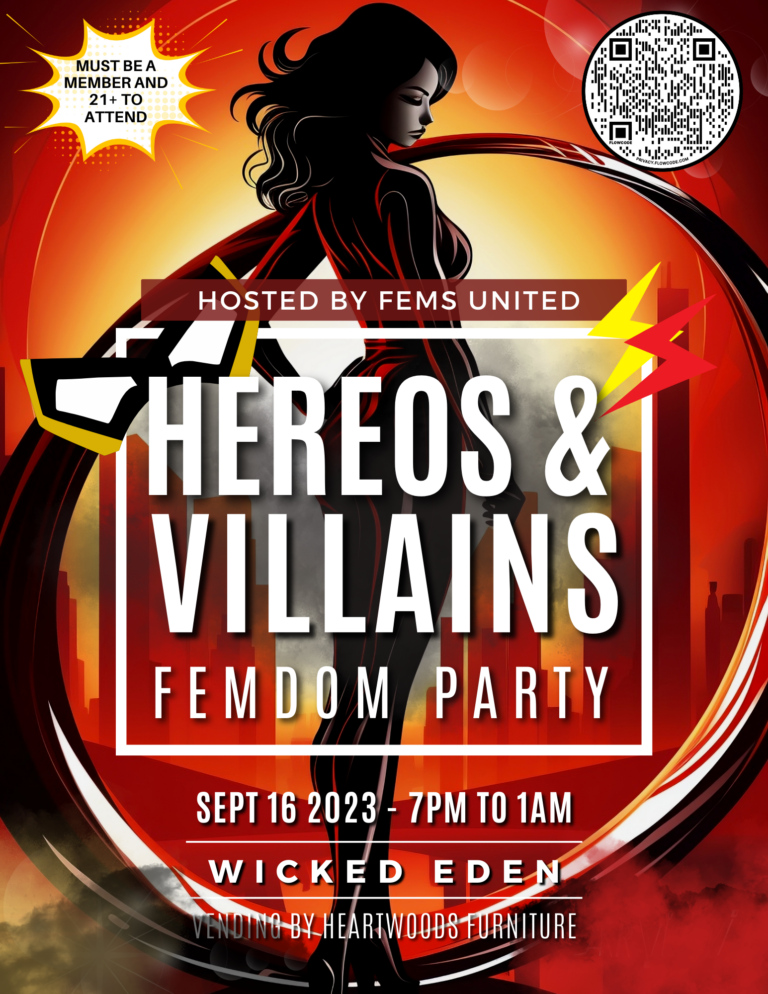 Sept 16th · 7pm ∙ Columbus, OH
Heroes and Villains Party, hosted by Fems United
When two formidable feminine forces join power….
We are thrilled to announce that FemsUnited has teamed up with the illustrious Wicked Eden for a spectacular party on September 16th.
On September 16th, from 8pm-1am, join us at Wicked Eden as Fems United takes over!
Femmes (and Thems!) this night is for you and hosted by none other than the fabulous Fems United!
It's time to unleash your inner Hero or Villain at an extraordinary party that celebrates the modern Femdom and Female Led Relationships. Fems United and Wicked Eden are proud to team up and present the Heroes and Villains party! Get ready to embrace your alter ego and join us for a night of excitement, empowerment, and thrilling experiences!
Delve into a world of fantasy with our 'Heroes and Villains' theme! Unleash your inner heroine or villainess, flaunt your creativity, and participate in an exhilarating costume contest. There's more – prepare for a visual treat with our thematic photo booth where you can immortalize your fantastic outfits and unforgettable moments.
Let's not forget about the stunning Wicked Eden, a playground for the senses that boasts an array of sensuous themed playrooms and state-of-the-art equipment, including incredible metal furniture by Heartwoods! Our beautifully outfitted dungeon rooms are ready for all of you Femmes and Thems to explore and enjoy, and we're committed to providing a safe and fun environment for all your kinky desires.
At Wicked Eden, we believe in the power of enthusiastic consent. That means you have total control over your body and your choices – you can choose to play or not, as much as you want, and everyone at the event will celebrate your choices. We are dedicated to promoting bodily autonomy, both at our space and beyond.
And here's a special treat – Heartwoods will be at the event, vending their enticing creations. As our guest, you'll have full access to this tantalizing venue, including a main room replete with the standard set of dungeon equipment.
Special Evening Instructions:
Wicked Eden and Fems United pride ourselves in welcoming individuals of different orientations at all of our events. But for this event we will be restricting play participants to only woman led scenes. We invite submissives/bottoms of any sex or gender to participate. However, because this is a FemDom specific party only women and those aligned on the female or nonbinary end of the gender spectrum may top during the evening. This definition is not concerned with biology, but with intention. 
Dress Code:
Dress to impress or come as your favorite superhero or supervillain persona! From Wonder Woman to Catwoman, Captain Marvel to Harley Quinn, unleash your creativity, and let your unique Fem Dom powers shine. We know you have just been waiting for a chance to wear that catsuit! Show us scenes with the villainess puting Superman on his knees, or a female crime fighter punishing a bad guy. If caped crusading isn't your thing, then feel free to wear whatever makes you feel your sexiest! Show a little or a lot of skin, it's all up to you, super hero!
Membership Required
Do note that to be a part of this unique experience, you need to be an Autonomy Project member. Opt for a full membership to stay covered for all our future events, which will also include classes and social events in the coming months, not just parties!
Or, avail of a one-night membership at 50% off until August 31 with code WICKEDWELCOME
Visit https://autonomyproject.org/member for membership details.
Once you've secured your membership, grab your event ticket on this page.
Membership to the Autonomy Project is more than just access to a remarkable space—it is an opportunity to be part of a dynamic and inclusive community. By becoming a member or even a volunteer, you join a collective of individuals who are dedicated to fostering respect, empowerment, and personal autonomy. Together, we are building a place where everyone can feel accepted, celebrated, and supported all across the LGBTQIA+, BDSM, and alternative lifestyle spectrum.
Here's how the evening unfolds:
7:00 pm: Doors swing open to welcome you and social hour commences. (Alcohol-free event)
8:00 pm: The much-anticipated costume contest kicks off
8:30 pm: Let the games begin!
9:00 pm: Registration closes, doors are locked
1:00 am: End of the magnificent party
Check out the rules for Wicked Eden at here and Fems United play parties here.
REMEMBER – you need a photo ID to get in. This event is strictly 21 and over.
Rest assured, while dungeon monitors will be present, it's a RACK event. Do arrive before 9:00 pm, as that's when registration wraps up.
PLEASE NOTE:

No refunds will be given on ticket purchases.
Discount codes are ONLY for vetted group members of FemsUnited, and group members must purchase an Autonomy Project membership to attend.
Failure to purchase a membership will render your ticket invalid.
About Fems United
Fems United is proud to be Columbus Ohio's own longest operating Fem Dom group. They strive to cultivate an empowering environment for dominant women; offering opportunities for education, support, socializing and fun in a tasteful manner. Their approaches to FemDom may vary, but they are always consensual; as such, each Domme's path and journey is to be respected.