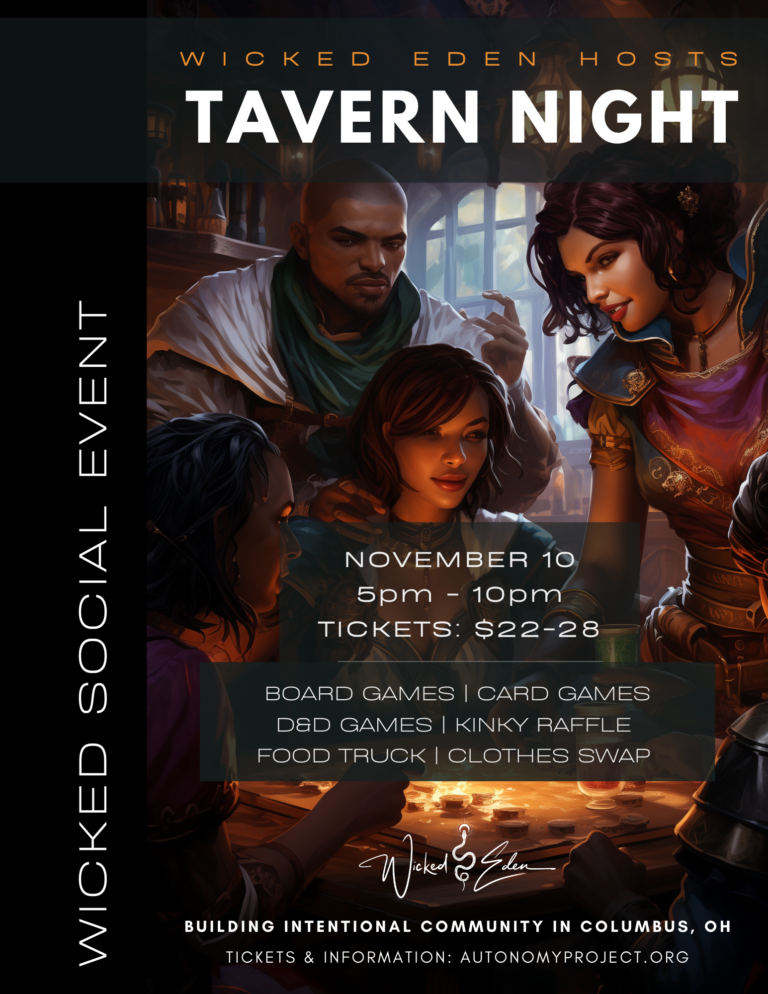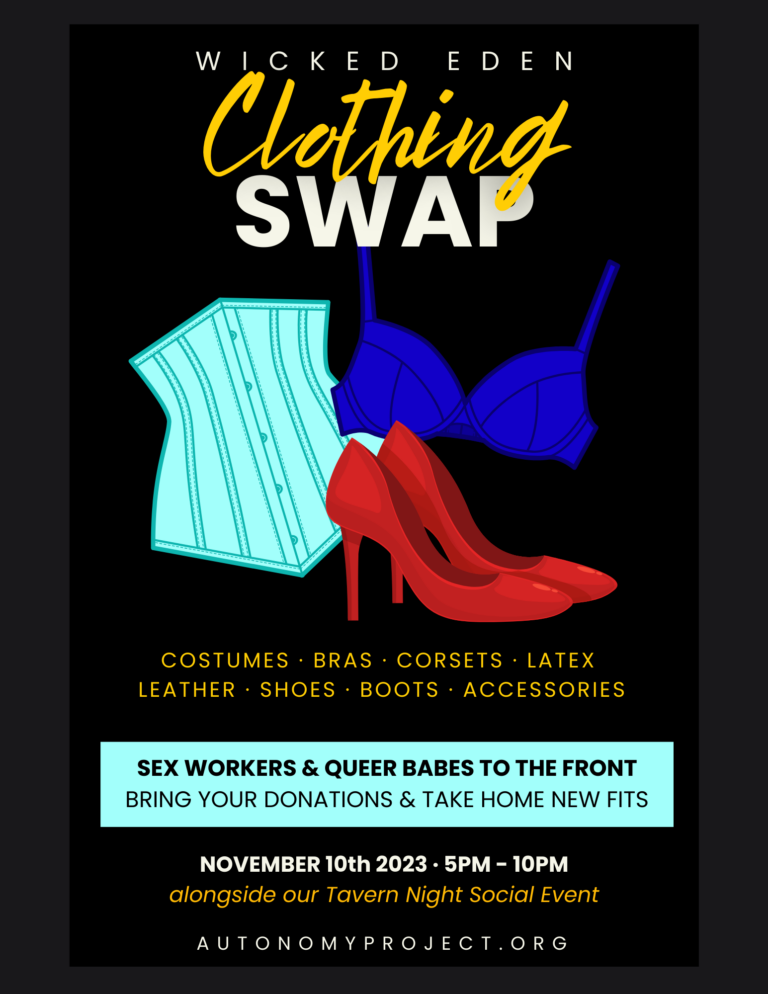 Tavern social night & Clothing Swap
Nov 10th 5-10pm ∙ Columbus, OH
Join us for a rollicking evening of fun and fantasy at Wicked Eden on Friday, November 10th, from 5 pm-10 pm for our Tavern Night Gaming Social!
Prepare for a night where playful spirits soar, dice roll, and cards turn in your favor. Let the lively tavern tunes carry you to realms of merriment and challenge, as friends become friendly foes across the tabletop battlegrounds! ✨
Yearning for epic adventures? Sign up for an immersive D&D session in our common room, led by our esteemed volunteer dungeon master, or seek out other thrilling quests in the clandestine corners of Wicked Eden.
Playspace RACK rules apply, so you can indulge in your darkest fantasies with confidence. At Wicked Eden, we believe in the power of enthusiastic consent. That means you have total control over your body and your choices – you can choose to play or not, as much as you want, and everyone at the event will celebrate your choices. We are dedicated to promoting bodily autonomy, both at our space and beyond.
We do have dungeon monitors present constantly sweeping the space, if you need assistance please flag someone down wearing an LED nametag.
Alongside this gaming social, we'll be hosting our first official Wicked Clothing Swap!
Get ready to revamp your wardrobe in the most wicked way possible! Join us at Wicked Eden for our much-anticipated Wicked Clothing Swap, where fashion meets fun and sustainability takes center stage. Bring those gently-worn items that no longer spark joy and trade them for fresh finds that celebrate your unique style! We have a large assortment of corsets, latex, leather, bras, bikinis, shoes, boots, and accessories already. (We do ask a small donation for some high end items to sustain our mission!)
Whether you're on the hunt for vintage treasures, quirky accessories, or simply want to enjoy a day of evening of bonding and fashion-forward fun, this event is for you. And remember, what's old to you could be the next cherished item for someone else! Come be part of the kinky eco-chic movement and leave with a spruced-up closet—guilt-free!
Sex Workers and Queer Babes to the front! This swap is especially for you!
When it comes to attire, anything goes at Tavern Night, we want you to feel comfortable and in the mood to have an adventure! Wicked Eden is a place where you can wear as much or as little as you desire. Whether you want to rock your most dazzling renaissance festival garb, put on your LARP gear or slip into some comfortable, let your imagination decide!
We LOVE volunteers! Join our team of community volunteers, and you will find new friends, a support system and a tight knit center of empowerment. Once you have obtained membership as above, please check out the volunteering section of The Autonomy Project website.
By volunteering with us you will have the opportunity to make a meaningful impact on people's lives, but you will also get perks such as discounted or free access to our events and classes, and most importantly, collaborative input in what we do here. Your ideas are important to us, and as a volunteer, we want you to feel like you're part of our community: one that celebrates who you are and supports your journey.
HIGH POTENTIAL, NO PRESSURES
Our community thrives in a space where countless delightful interactions could happen, but none are obligated to occur. Think of it as "high possibility, low expectations." Outside of our general requirements of respect, you are under no obligation to interact with anyone in any particular way. This makes our space ideal for new faces and seasoned community members alike.
HIGH POTENTIAL, NO PRESSURES
Our events aren't the product of one person hosting a party for pay; they're the result of a community coming together and creating something new. Everyone who attends is expected to co-create: money, time, energy, enthusiasm, work, intention, example, concern and/or awareness. Have ideas, games, art, music to share? Want to bring them to life with us?
Our gatherings are magical because of trust. We fiercely protect each member's privacy, encourage honest risk communication, and take diligent care of our shared environments. It's our collective respect and integrity that fortify this safe space.
CLEAR AND PRESENT CONSENT
Upholding consent goes beyond preventing harm; it's about affirming everyone's freedom to fully and joyfully agree to their interactions. It's through this affirmation that our spaces thrive with genuine, unreserved participation.
We're committed to inclusivity. Our community is a tapestry of individuals from diverse racial, ethnic, and social backgrounds, including all gender identities and expressions. We encourage everyone to engage with empathy and curiosity, always asking rather than assuming someone's identity or preferences.
Our space is and always will be wheelchair accessible, with multiple spaces for varying sensory needs.
PLEASE NOTE:

No refunds will be given on ticket purchases.
Discount codes are ONLY for vetted group members of FemsUnited, and group members must purchase an Autonomy Project membership to attend.
Failure to purchase a membership will render your ticket invalid.
Wicked Eden is operated by The Autonomy Project, a 501(c)3 nonprofit organization dedicated to education, community building, and empowerment for individuals within the alternative sexuality community, sex work industry, and the LGBTQIA+ community. Our mission is to create a safe and inclusive space where individuals can freely express their sexuality and gender identity without fear of discrimination, judgment, or violence.